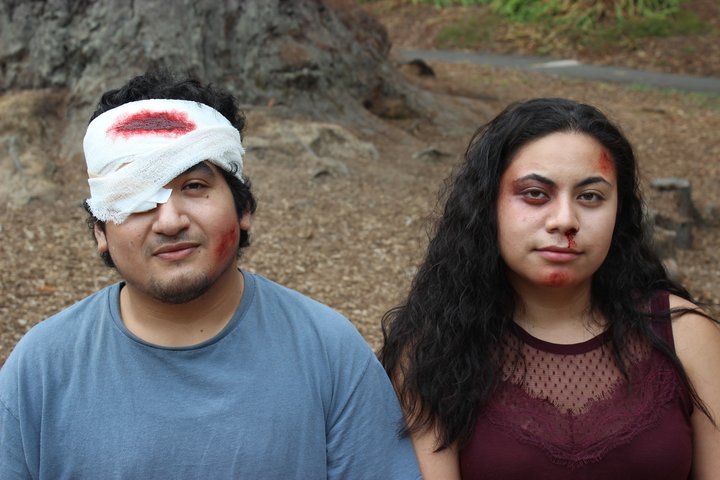 It's still a little early for Halloween, but don't be overly alarmed if you see a woman walking around with open wounds. If you're looking at Angie Negrete, her injuries are fake.

Negrete is the makeup designer for a student production running at Humboldt State's Studio Theatre this Fridayand Saturday, Gruesome Playground Injuries, a 2009 play by Rajiv Joseph. Producer/Director Roman Sanchez described the plays as a "110 minute one-act 'rom-dram'" that follows two "scar-crossed" lovers, Doug and Kayleen, from ages 8 to 38 through heartbreak, hurts and their own self-destructive tendencies.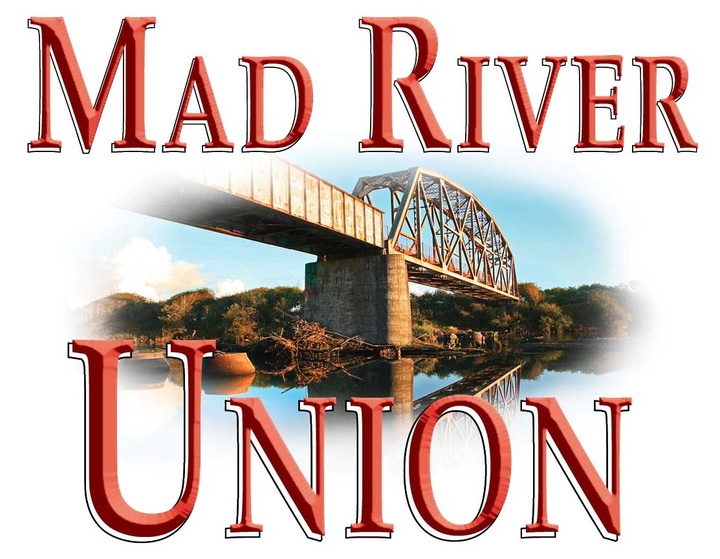 The play is performed in the round, with actors and crew onstage for the duration. As a result, makeup, costume changes and all manner of stagecraft will be as much a part of the performance as that delivered by the two actors. There are 23 crew supporting two actors, noted Sanchez, some of whom will be onstage. "The transitions will be part of the spectacle," he said, so he brought in Cleo DeOrio from Dell'Arte to provide movement direction, choreographing the many transitions from scene to scene.
For Negrete, this meant developing makeup that could be applied quickly and would hold up through the action. Because the audience will be so close to the actors, she also had to develop looks that are natural, but that age the actors 30 years. And because this is a student production, she had to do all this with "zero budget."
Not to mention the aforementioned gruesome injuries. Negrete has bravely gone down the internet rabbit hole researching actual wounds, making her own cosmetic gelatin, experimenting with latex and scar wax, deciding when to use stage blood or scab blood and finessing her scar work. To make sure the makeup will hold up onstage, she wore some of it to weight training. Her roommate and assistant, Stephanie Hernandez, walked around local stores one Monday with a forehead scar. Fortunately, people were more fascinated than alarmed, reported Negrete.
But despite the intricacies of aging and injury, what most challenged Negrete was bandages, specifically a head wrap that she had to make sturdy enough to work onstage, but engineered so it could be put on and removed quickly and easily.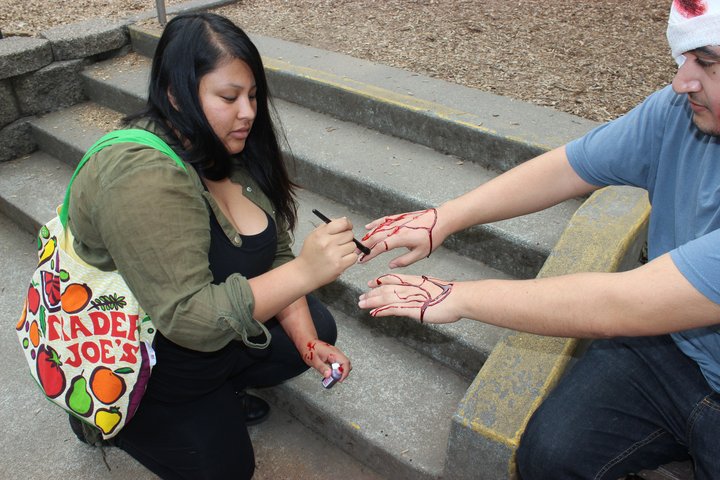 The play's quick changes also presented challenges for costume designer Isabella Ceja. Drawing mostly from the HSU Theatre Department's costume stock, she pulled together looks for each character to span 30 years. After close examination of the script, she determined that Doug is a "brighter," more optimistic type; his costumes are in a palette of greens. Kayleen, whom Ceja described as "darker," will be dressed in shades of red. Ceja has had to make some alterations, to better fit the actors, and said that shoes are always a real challenge.
She also had to make some custom pieces. One scene calls for Kayleen to appear in muddy stockings. To achieve this look, Ceja wrapped a mannequin's arm in plastic, threaded the tights onto the arms, then painted them brown, all this so the legs wouldn't stick together as they dried.
First-time property designer Lauren Zika showed the same ingenuity in designing props. While plays come with a handy property list, much of which can be store-bought, budget challenges, regulations and attention to detail led Zika to find or make unusual items. One of the characters self-harms, but due to campus rules, using actual weapons onstage requires permission from campus police. So, Zika made fake utility knife blades from plastic, tinfoil and tape. She even faked a little rust on them, for added verisimilitude – at first glance, and at second, I thought they were real.
Zika also went above and beyond handcrafting Girl Scout cookie boxes. Yes, you read that right. The play calls for a box of Samoas. However, Zika discovered that the box design changed after 2012. So, to stay true to the timeline of the play, Zika found images of the older design – some of them in snapshots posted online – and, with the help of a Photoshop-using friend, constructed vintage cookie boxes out of printouts, sturdy cardboard, tape and Mod Podge. And because the actors must eat the cookies (and it's not Girl Scout cookie season), she also sourced a commercial brand of cookie that resembles Samoas.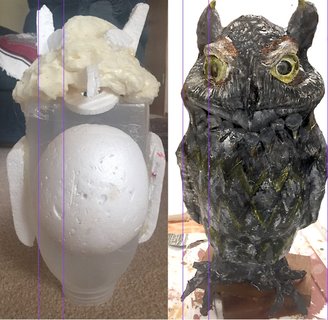 But her proudest achievement is the distressed owl found in some wreckage, a prop that holds deep meanings for the characters. While Zika could have just walked down the hill to pick up a plastic owl decoy used to frighten birds away from buildings from the hardware store, she chose to make one from scratch, so it would be "unique to the characters and the theme of the play," she said. So, looking around the prop shop, she started with an empty bottle and some foam, and with applications of paper maché, tape and paint, sculpted an owl.
While the crew toiled on the visual aspects of the play, actor Fiva Pulu undertook the emotional and psychological work of getting to know – and like – her character, Kayleen. "She's troubled," said Pulu, "and embodies women's insecurities in relationships. She wants to be good enough for Doug, but doesn't believe she is." Her character's favorite age to play is 8, when everything seems hopeful and optimistic. Pulu then carries her character through troubled times, concluding that at 38, some years older than Pulu herself, Kayleen is more confident.
Pulu's costar, Elio Robles, is also her boyfriend in real life, adding an extra dimension to the roles they play. On the up side, the chemistry doesn't need to be faked, said Pulu, but they're also careful not to let the character's damaged dynamics seep into their relationship. "It's just work," said Pulu, and they hug it out after running lines.
At the time of the interview, Pulu confessed to being "intimidated, scared and anxious" about the prospect of pulling off such a complex, yet intimate piece of theatre, an admission echoed by members of the crew. "It will all come together," assured Sanchez. "It always seems like shows won't come together, but they do, and it's magic."
Gruesome Playground Injuries will run for only two performances, Friday and Saturday, Oct. 13 and 14 at 7 p.m. in HSU's Studio Theatre, located on the second floor of the Theatre Arts building. All performances are pay-what-you-can and arena-style seating is on a first-come, first-served basis.
###
Lauraine Leblanc is scene editor of the Mad River Union. Subscribe here.