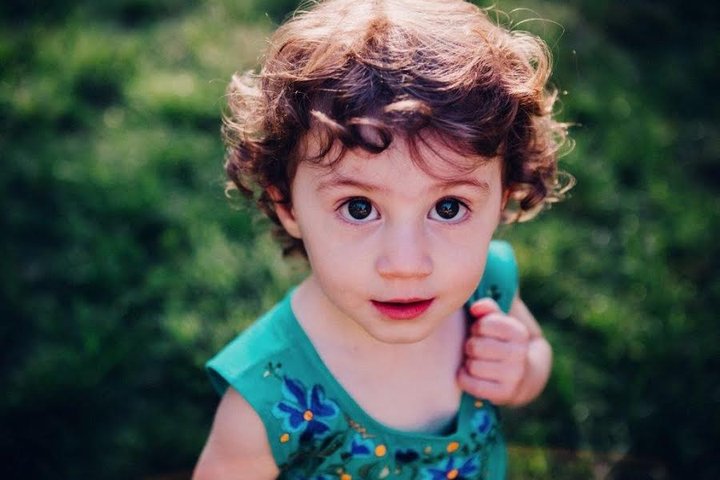 Talya Eve Benzinger passed away October 13th, 2017 at UC Davis Medical Center with her parents at her side. She was born into this world in the front seat of her Daddy's truck speeding to the hospital on July 25th, 2014. Talya's sudden passing has left an enormous void in her family's hearts, and lives. Although small in stature, she always envisioned herself much larger and older than she was. Her passing has devastated those who knew her and ripped a hole in her parent's hearts that will never be repaired.

Talya was the loudest of three siblings, the leader of the pack, and always up for an adventure. Her curiosity, mixed with her fearless inhibition set the stage for a good time wherever she happened to be, or whomever she happened to be with. She looked up to her older brother and sister and joyfully participated in whatever adventurous activity they happened to be doing at the moment. Whether it was caring for her chickens, riding bicycles, building forts, going to the river, art projects, picking huckleberries, or going on nature hikes. On one of our last nature hikes, Talya led the way singing, dressed in one of her favorite outfits; rubber boots and underwear. For those who were lucky enough to know Talya, she was a special girl and a joy to be around. Talya was compassionate, smart, inquisitive, loving, had a great sense of humor, and a song in her heart wherever she went. She would always wear her socks outside and her shoes inside. Her love of life and everything around her never stopped. Her little dimples, messy hair, raspy voice, and freckles all added to her larger than life personality.
Talya was the twinkle in her Daddy's eye and his littlest, biggest fan. She met him every night after work with giant hugs as if she hadn't seen him in weeks. She always fought bedtime, afraid to miss anything and would awake in the middle of the night, every night, to try and crawl in bed with Mommy and Daddy. Sometimes she was successful and for us it was like sleeping next to a fish out of water. Most of the time though, she slept at the foot of our bed so as to not be too far away and ready to go at a moment's notice. Talya was a gift, the most special gift anyone could ever wish for. She was her Daddy's most favorite thing in the whole world, and her Mom has lost a part of herself.
Talya is survived by her best friends in the whole world, big sister and big brother Kyla and Bodie; her parents Mark and Sicily. Her Grandparents, Bob and Sue Crivello, and Weldon and Susan Benzinger; Her Great Grandma Bea Crivello; her Aunts and Uncles John and Terry Benzinger, Sarah and Charlie Benzinger, Tom and Jackie Benzinger, Pete Crivello, and Mary Benzinger.
A service, open to the public, will be held on October 28th, at 1:00 p.m. the Sequoia Conference Center in Eureka.
Our lives feel empty without you. We love you Talya.
###
The obituary above was submitted by Talya's family. The Lost Coast Outpost runs obituaries of Humboldt County residents at no charge. See guidelines here.