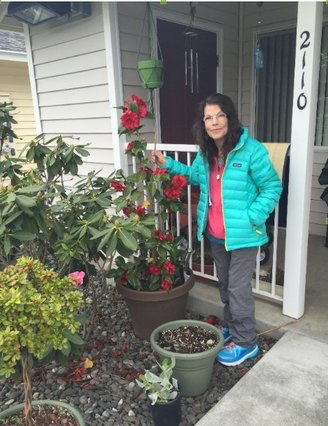 Nancy Marie (Hockstaff) August
Nov. 2 1946 — Sept. 23 2017
Familiar face to all, she had a passion to live life and a feisty personality
Nancy lost her battle with cancer and died peacefully on Saturday, Sept. 23, 2017, with her son by her side at John Muir Hospital in the San Francisco Bay Area.
Nancy was born Nov. 2, 1946 in Albany, Calif. to Violet and Bufford Maddux. She was a well-rounded soul and free spirit. You could always find her outdoors. She had a green thumb. She enjoyed gardening, hiking, the beach, exploring state parks, photography, art. She loved music and you could always catch her watching a baseball game if the Seattle Mariners were on.
She migrated up to Humboldt County in the 1970s.
She loved this community and always considered it home. Nancy worked very hard as a single mom holding a variety of jobs and community service throughout Southern and Northern Humboldt. To name a few of jobs and community services that were special to Nancy: Teacher's aide at Leggett Elementary, teacher's aide at Redway Elementary, owner of The Gypsy's Trunk, public relations/advertising for The Redwood Record, public relations/advertising for The Mateel Community Center (Reggae on the River, Summer Arts Festival, Recycled Youth). Her final service was mentoring troubled youth at a juvenile hall in Washington. Nancy was involved in many other jobs and organizations in the community, but the above were very close to her heart.
In 2005 Nancy reconnected with one of her high school friends, Jim Hockstaff, and shortly thereafter they married. They lived back and forth in Humboldt County and Washington state. During their marriage Jim and Mom traveled all over the U.S. and most importantly they focused on love, meditation and taking care of the body, which enabled Mom to live several years past all expectations.
She was diagnosed with Neuroendocrine Cancer in 1994 and other complications from there but it never kept her down. She never felt sorry for herself, loved life, and above all was deeply committed to helping others. She always told us she could beat it, and her fighting spirit gave her 23 more years to live. She fought until the very end.
She was a wonderful mom who taught her children at very young age to always be independent, work hard and always be honest. She didn't have much but would always give others what she could. She will be greatly missed.
Nancy is survived by her husband, Jim Hockstaff; her children, Felicia and husband Scott Thomsson, Byron August, Isaac August, and Brandon August and his wife Lynda. She also has four grandchildren: Zoie Thomsson, Ashlyn August, Jasmine August and Jordan August.
No service per her request. In lieu of flowers please make a donation to your favorite non-profit in her name.
###
The obituary above was submitted by Nancy Hockstaff's family. The Lost Coast Outpost runs obituaries of Humboldt County residents at no charge. See guidelines here.