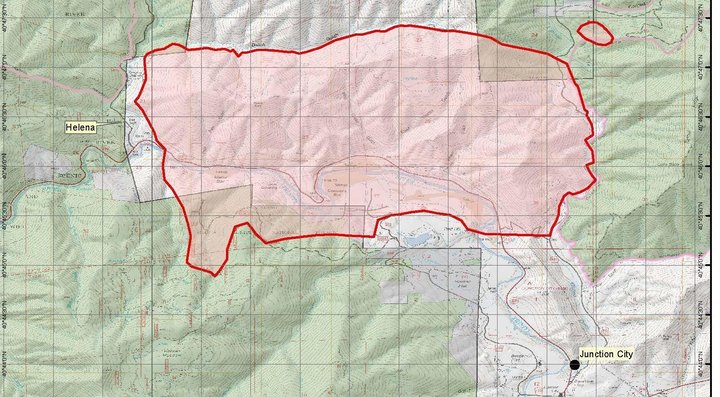 The Helena Fire, which broke out a couple of nights ago between the Trinity County towns of Helena and Junction City, continues to rage on both sides of Highway 299 today. The fire has held at around 5,000 acres for some time, though firefighters still categorize it as zero percent contained. Incident commanders believe that around 130 structures — homes, garages, outbuildings — have been destroyed.
The highway remains closed, and is likely to do so for some time. In the meanwhile, the heavy-duty construction that has all but shuttered Highway 36 for the last month or so will be on pause throughout Labor Day weekend, according to Caltrans. Construction workers are due to down tools at noon today. So that's a viable option if you're heading east.
From Inciweb:
Current Fire Situation: The Helena Fire continues to burn along Highway 299 on both sides of the Trinity River west of Weaverville. Yesterday, a heavy inversion developed due to the high pressure system centered over the area and created a thick blanket of smoke. The fire has not grown significantly in the last 24 hours and it remains at approximately 5,000 acres with 0% containment.

Air tankers and helicopters are available to support containment efforts if the inversion lifts and visibility improves.

California Interagency Incident Management Team 3, a Type 1 Incident Management Team (IMT) is shadowing fire managers today and will assume command of the fire at 6:00 p.m.

The Helena Fire is under unified command with CAL FIRE.

Structure Assessments: Preliminary structure assessments are being conducted by the Trinity County Sheriff's Office and indicate approximately 130 structures have been damaged or destroyed. Structure can mean a garage, outbuilding, residence, or commercial building. Those who have been evacuated can call (530) 623-1726 to have their contact information placed on a list so that they can later be notified by the Sheriff's Office about any property damage.

Evacuations: The evacuation order put into place by the Trinity County Sheriff's for residents between Helena and Oregon Mountain Summit, including the Canyon Creek area, remains in effect. The evacuation center at the First Baptist Church in Weaverville is sheltering approximately 100 people. Large animals may be taken to Lowden Park.


Road Closures: State Route 299 remains closed east of Junction City (near milepost 45) and west of Helena Bridge. Travelers should take alternate routes.

Air Quality: North Coast Unified Air Quality Management District (NCUAQMD) has issued an Air Quality Alert for hazardous conditions for the following areas:Weaverville, Lewiston, Junction City, Big Bar and areas along the river corridor adjacent to the fire. Smoke levels in these areas have been classified as Hazardous. Smoke in these areas is creating a health hazard. People are recommended to restrict outdoor activity. There is a Clean Air Shelter in Trinity County at the Veterans Hall, located at 109 Memorial Drive in Weaverville. It is open 24 hours.

Wilderness: The forest is not issuing new Wilderness Permits for the Trinity Alps Wilderness at this time.

Recreation Site Closures: The Bureau of Land Management (BLM) Redding Field Office has closed the Junction City Campground and Bagdad River Access along Highway 299 and the Grapevine Swimming Hole on East Fork Road until further notice.

Weather Concerns: The area is under an excessive heat warning and the fire has experienced strong terrain driven winds.

Additional fire information can be obtained by visiting https://inciweb.nwcg.gov/incident/5564/. A fire information number has been set up at (530) 628-0039 and is staffed from 8:00 a.m. to 10:00 p.m.