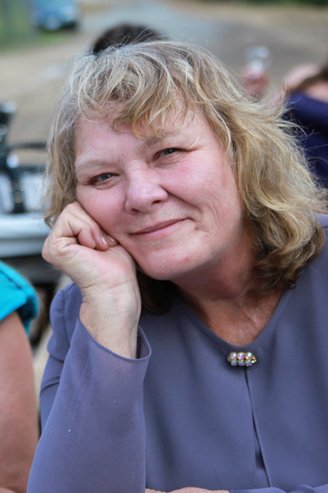 Ruth Ann Sttle was born October 26, 1945 in Fresno to Archie Edward (Sandy) Settle and Amy Ruth Settle. She died in Eureka on July 31, 2017 after a long, arduous battle with throat cancer.

In 2012, Ruth lost her ability to speak and was unable to eat or drink the last 19 months of her life. She suffered with various cancers until her death, and was first diagnosed with breast cancer in her thirties. Her children, Shannon and Scott Campbell, both of Eureka were eight and ten years old. In spite of the cancer, Ruth lived a full life.
Ruth was raised by her mother, Amy and Amy's partner, Doris Watson, both deceased. She is survived by her brother and sister-in-law Paul and Barbara Settle of Galt, her brother and sister-in-law Steven and Cathy Settle of California City and her sister Tina Shannon of Madera Ranchos, California. Her youngest brother, Burt, passed away several years ago. Ruth also had her adopted son, Donald Wilkes and his wife Tina. He and Tina were there for her at a moment's notice, through thick and thin. They truly made a difference in her life. Ruth adored her grandson, Terrance Campbell, of Chico, California. Terrance earned top grades in advanced math studies and recently enlisted in the Navy with ambitions to become a Nuclear Engineer. Ruth was very proud of Terrance. He was her shining light as she neared the end of her life. Ruth never married.

Ruth was raised in the San Francisco Bay Area and the Central Valley, with her eventual settlement in Sonora, California where she raised her sons. She came to Humboldt County in the late 1980's where she found happiness in the Redwoods.
Ruth's efforts and career goals were always human centered and social work oriented, in part because of her sons' problems with drugs. Ruth co-sponsored Parents Helping Parents, a support group-network for parents of troubled teens in Humboldt. She garnered financial support from the Sisters of St. Orange to pay a Counselor Mediator. She didn't solve the problems of the world but she sure tried. Additionally, Ruth volunteered as a Humboldt County Grand Juror for several years. She was proud of herself, typesetting and publishing the Final Report(s) for both years she served. Ruth was eventually hired with the County of Humboldt Department of Health and Human Services. Ruth worked for various Departments: Children's Shelter, General Relief, In Home Support Services, and the Medi-Cal Division. She loved working with the General Relief clients and her coworkers and this was one of the happiest times of her life. At times, she was relentless in working the system, trying to access financial aid or medical assistance for them, sometimes getting scolded and reined in by her bosses.
Ruth was honored to have the local Chapter of SGI-USA Buddhists come and chant with her in the hospital. She was happy with her care and treatment at St. Joseph's Hospital. She is thankful to the agencies and doctors that helped her. To name a few: Resolution Care, Stanford Medical Center and all the doctors and nurses she encountered there, all the visiting nurses and social workers in Humboldt County treated her wonderfully, never taking away her dignity. Ruth was also a grateful fan of the American Cancer Society who assisted her through with gas and hotels for her travels to Stanford for medical treatment through the years. They also helped with the periodic replacement of a bra, or a wig if she needed one.
Ruth's hobbies were many: gardening, yard sales, home decorating and renovation, jewelry making, cooking, and entertaining with a flair. She was a member of the Eureka Women of the Moose, where she loved cheffing in her whites for the members. And, she loved to gamble! Her favorite was Texas Hold' Em Poker. She would giggle about the many players at the casinos who were in fear of her and their money at the poker table. Ruth won a spot in the World Series of Poker in Las Vegas. She won the first tournament but unfortunately, had a plane to catch, back home to Eureka. She sold her seat and came home with over a grand in her pocket! That was Ruth!
Ruth will be missed by all who knew her. A Celebration of life, Potluck, and a SGI-USA Buddhist service will be held on Sunday, September 24, 2017 at 2 p.m. at the Eureka Moose Lodge, 4328 Campton Road, Eureka California. Please bring a dish to share you know Ruth would be proud to serve.
Ruth's favorite charities were KEET-TV and the American Cancer Society if you wish to donate in her name.
###
The obituary above was submitted by Ruth Ann Settle's family. The Lost Coast Outpost runs obituaries of Humboldt County residents at no charge. See guidelines here.