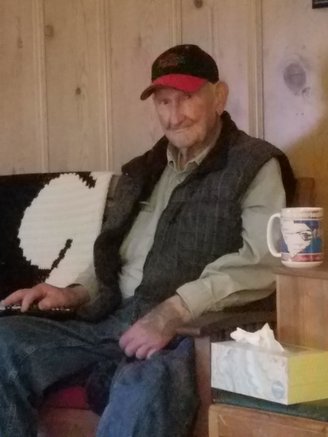 Otha "Butch" Burl Arp
May 20th, 1926 - September 17th 2017
Weott, CA
Jesus called Butch Arp of Weott home late Sunday evening, September 17, 2017 at the age of 91.
Butch was born in Caddo, Oklahoma on May 20, 1926 to Ezzie Lee Lassiter Arp and George Dewey "GD" Arp the oldest of six children. It was at a tent meeting, as a youngster, that he accepted Christ as his savior and began a life-long journey reflecting those beliefs. Many would describe him as generous and dependable. His family and his friends remember him as a man who loved unconditionally. Butch bravely served his country in the medical corps as a nurse stationed in Italy during World War II.

He moved to California in 1947, where he learned the lumber industry and worked at Bee River Lumber Company. In the fall of 1950 Butch fell in love with Dottise D. Evans, a widow with two children, Jack and Lynne. They were married on May 3rd, 1951 and had their daughter, Lauri in 1955. He continued in the lumber industry until he was hurt in an accident in 1962. Unable to keep Butch down, he switched to commercial fishing in 1963, bought his own boat in 1964 — "The Okie Drifter" — and became part of the famous Shelter Cove Mosquito Fleet.
Butch liked to stay busy. He made his own flies and lures and in the off season he ran the McCann ferry and worked at Morrison Jackson Lumber Company. He fished at Shelter Cove until 2016. He often supplied fish for the local restaurant and made lead sinkers that he sold at the Shelter Cove store. He won "biggest fish" of the season and was also featured on the Shelter Cove Restaurant T-shirt. Many lifelong friends were made at Shelter Cove over the years.
He and his family lived through the 1955 and 1964 floods, as well as surviving their home burning down in 1955 and 1984. Butch and his family moved to Weott in August of 1962 where he remained. Butch loved animals, had several pet Pomeranians, and fed his neighbor's cats which eventually turned into feeding all the neighborhood cats. He was incredibly generous with the bounty from his vegetable garden, provided chopped wood for his family well into his late 80s and enjoyed watching the hummingbirds feast from his front porch.
Butch attended church most Sundays at Weott Faith Chapel Assembly. He liked Westerns (movies or books), was an amazing card player and frequently won playing games like cribbage or pinochle with family, friends and even "Robin" on his computer Hoyle game. One of his other favorite past times was taking his chances at the penny slots at Bear River Casino. He made many friends with his CB Radio in places all over the world, like Alaska, China and Australia. He was fortunate enough to meet face to face with several of them over the years on trips he and Dot would take across the US to see family and friends and to take in the sights.
He is preceded in death by his parents, Ezzie Lee Lassiter Arp and George Dewey "GD" Arp; his beloved wife of 47 years, Dottise "Dot" Dee Arp; siblings, Dorrris Harborson, Doug Arp and Dewell Arp; his daughter-in-law E.J. Evans and son-in-law Herbert Alvarez.
He is survived by his siblings, Jimmy Arp and his wife Anita, and Wynona Renfro; his children, John "Jack" Evans, Lynne Evans Alvarez, and Lauri J Arp Walters and her husband Dudley Walters; his grandchildren Gary Gentner, Scott Kendall, Herbie Alvarez, Misti Alvarez-Coen, Keirsten Eagles, Sasha Shay, Clarissa Walters, Nikaela Walters; his great grandchildren Veronica, Ashley, Chayton, Tadan, Halona, Libby and Emma; and his great great grandchild Elliot.
A memorial service will be held at Sanders Funeral Home, 1835 E Street Eureka, CA at 10 a.m. on Friday, September 22nd, 2017. Graveside service to follow at Ocean View Cemetery.
###
The obituary above was submitted by Butch Arp's family. The Lost Coast Outpost runs obituaries of Humboldt County residents at no charge. See guidelines here.