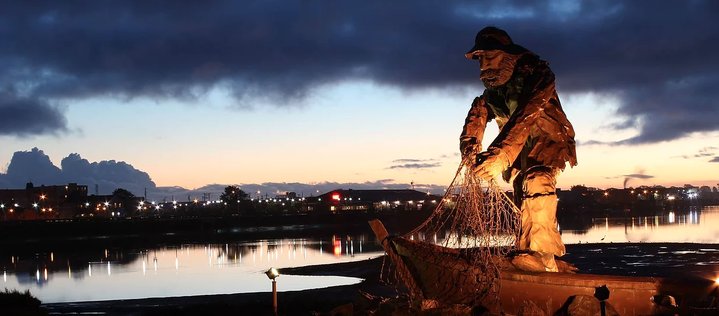 Reports of our local fishing industry's demise have been greatly exaggerated.
While our local fisheries may not be as productive as in their 1970s heyday — when we landed more than half the fish consumed in the state — fishermen (and oyster farmers and support industries) still make up an integral part of our local economy. And in a pair of upcoming meetings led by Humboldt State University, the public will have an opportunity to help develop sustainability plans for our local ports.
The first one will be held next Wednesday at Eureka's Wharfinger Building, and the second will be next Friday at the Shelter Cove Community Center. Surfers have a stake, too, as noted by retired fisheries conservationist Jud Ellinwood in his letter to local stakeholders.
See the flyers and press release below for more information.
Press release:
Humboldt State University (HSU) is leading a team of researchers which includes Lisa Wise Consulting, Inc. (LWC), a planning and working waterfront firm, to work directly with representatives from the fishing communities of Eureka and Shelter Cove.

Fishing Community Sustainability Plans (CSPs) are a way for fishermen to have a direct impact on the future of their port and their industry. CSP planning is a process that involves working with stakeholders in fishing and waterfront activities to assess community needs and develop a list of recommendations to take to improve the sustainability of their ports.

A key focus of the plan will be the commercial fishing industry but the process incorporates a wide range of waterfront interests including: commercial fishing, charter and recreational fishing, mariculture, fish buyers/processors, marina services, support industries, tourism, and local government.

A CSP is a strategic document that will help the fishing community identify, communicate, and attain their goals for a stronger and more resilient future.
Here are the flyers for the workshops: