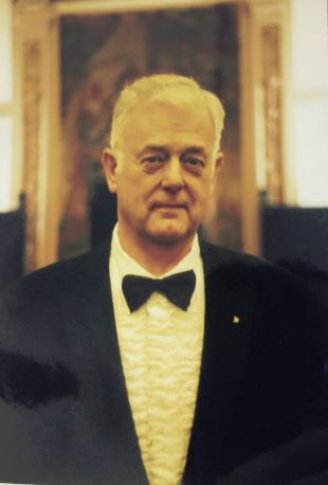 William Emil Flackus Jr., DDS, passed away August 17, 2017 at 84 years of age in Sacramento of lung and kidney failure. He was born in Martinez, CA, October 27th, 1932 to William Emil Flackus Sr. and Clarinda Josephine Flackus, who preceded him in life. He was a life-long companion of Carol Flackus.

Bill attended Alhambra High School and enjoyed playing football in high school and community college. In 1950, he enlisted in the Navy and saw action as a "frogman" in the Korean War. Upon returning from the war, he bought a Triumph TR2 sportscar and enjoyed racing and driving fast in his local sports car club. He met his wife, Carol, in 1958 and married her in in 1961. They both attended Chico State University and received their BA and teacher's credential. Bill taught 5th and 8th grade for 3 years in New Cuyama. He then attended University of California San Francisco and received his DDS and BS degrees. After camping several times at Patricks Point State Park and deciding he liked the North Coast, he moved to Eureka in 1971 and opened his Dental practice. In more than 25 years of Dentistry, Bill touched and helped many local families and became well known in Eureka. At the beginning of his practice, he also did his own lab work by making his own gold crowns from patient impressions in a lab he built himself in his garage.
Bill enjoyed woodwork and was very handy around the house. He went ocean fishing as often as possible in his ski boat that he converted for the ocean. He enjoyed catching salmon, tuna, bottom fish and crab, and for a short period he held a commercial fishing license. His family enjoyed eating his catch from the sea on a weekly basis. Bill loved to go camping at Trinity Lake with his family, where they would water ski and go tubing. Bill was also a good cook and made several Chinese dinners for his Masonic Lodge. While a member of Semper Virens Lodge, he was Master twice, and he received the Hiram Award.
After 25 years of family Dentistry, Bill sold his practice and worked in several dental clinics such as College of the Redwoods and General Hospital. He immensely enjoyed attending his kids', and then grandchildren's, sporting and school activities. Family was very important to him, and he was very proud of his children and grandkids. Bill valued hugs and loved to give and receive them, saying "Don't ever grow too old for a hug".
Earlier this year, he and Carol moved to Sacramento to be closer to their four young grandchildren.
Bill is survived by his brother Robert Flackus, his partner Carol Flackus, his son Todd Flackus, his daughter Pamela Davis, and his daughter Krislyn Lounsbury. He is also loved by six grandchildren.
A Celebration of Life for Bill will be held October 8th, 2017 in the Bay Room at the Wharfinger Building at 11 a.m. in Eureka. Anyone who was touched by Bill is invited to join us in remembering and sharing his life and distinctive qualities.
###
The obituary above was submitted by William Flackus' family. The Lost Coast Outpost runs obituaries of Humboldt County residents at no charge. See guidelines here.