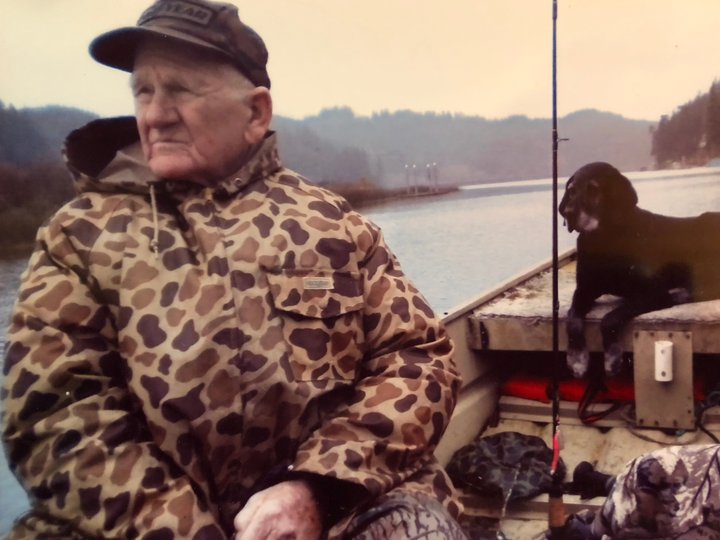 Lee F. "Pinky" Nowlin, husband, father, grandfather, sawyer, and friend to many, died on Thursday, April 12, 2018 in Arcata. Pinky was born in Langlois, Oregon on February 24, 1930, to John R. and Ann Reiling Nowlin. He was the youngest of eight children. He spent his early childhood in Muscle Creek and Ophir, Oregon area. Pinky began and completed his formal education in the Ophir School System in 1948 as one of three graduates. He was president of the Ophir Student Council, served as sports editor of the school newspaper, "Smoke Signals", and led the Ophir Warriors basketball team as captain. Pinky's time at Ophir School led to lifelong friendships and laid the foundation for a life that touched so many people in so many ways.

After graduation, with the world at his feet Pinky and his "best" friend Corky Brewer enlisted in the United States Navy. After completing boot camp in San Diego, CA he was assigned to the U.S.S. Montague as an engineman. He spent the majority of his enlisted career in the South Pacific during the Korean War and was recognized by his commanding officer for "being well liked by his shipmates and yet able to lead a team effectively". While on shore leave he attended a USO dance in San Diego, California where he met and married his first wife, Dolores Mae Seese, of Bell Gardens, California in 1953. Pinky completed his first tour of duty in July, 1954 as an Engineman Class II.
Pinky decided not to reenlist so he took his new bride back to Oregon where he settled into married life and began his lifelong career working in the wood products industry. In 1958 Pinky and Dolores, welcomed their first child Timothy Lee. Two years later, they welcomed their second child, Linda Mae. In 1962, their son James Robert joined this lively group. Pinky, being the fearless and energetic adventurer, spent the next several years ensuring that his family participated in every possible sport and outdoor activity known to man. From dirt bike racing to racing hydroplanes on the Rogue River Pinky never missed an opportunity to support his children. The Nowlin home was a frequent gathering place for both children and adults where lots of love, laughter and chaos could be found. In 1975, Pinky and Dolores welcomed the opportunity to complete their close knit family with the addition of Shaun Lowell Carpenter.
After 26 years in the wood products industry in Oregon, Pinky was given the opportunity to relocate to Blue Lake, California to build and operate the most automated chip plant in the US. Shortly after moving to Blue Lake, Pinky would suffer the sudden loss of his beloved wife of 30 years, Dolores (1982). After working through his grief, Pinky had the good fortune to meet a wonderful woman, Marie Kilgore Christian. After a whirlwind courtship, Marie and Pinky were married in February, 1984 and made their home in Blue Lake. The marriage gave Pinky the opportunity to welcome into his family Marie's three children, Barbara Hildebrand, Debbie and Steve Christian.
Pinky and Marie settled into married life quickly and began to build a life around their love for family, friends, and traveling. They traveled to visit children frequently and were regular attendees at Pinky's annual Navy ship reunions no matter the location. The two enjoyed dancing and spent numerous hours participating in local dance clubs. They both loved entertaining their friends and families and were well known in the community for their annual Halloween parties. Pinky loved the San Francisco Forty Niners and Giants and could often be found gathered around the TV with his big family.
In later years as the wood products industry slowed down Pinky changed careers and began working with Kernen Construction as a heavy equipment operator. Pinky was well known among his work family and was a welcome sight for the drivers when they were loading. Pinky was always smiling and had a kind word and a story for anyone who would listen. Pinky continued to work until the age of 82 and even boasted that he "loaded 104 trucks in one day" as his record. In 2013 Pinky had a stroke that changed his and Marie's life. Until his death, Marie's mission in life centered on ensuring that Pinky received the absolute best care possible surrounded by his family and friends in the home he loved.
Pinky will be remembered for his ready smile and amazing sense of humor. Pinky never met a stranger and always welcomed the opportunity to tell a good story. He enjoyed hunting large and small game with his sons, Jamie and Shaun, more for the comradery than the thrill of the hunt. He was an amazing father and grandfather and was quick to support family and friends in any endeavor. He loved a good glass of Lord Calvert and a house full of family and friends.
Survivors include his loving wife of 34 years, Marie Kilgore Christian Nowlin; sister and best friend since birth, Ellen Nowlin Moore of Gold Beach, OR; children, Timothy Lee Nowlin and spouse Angela of Pickwick Dam, TN. Linda Mae Nowlin Waring and spouse Ross of Grass Valley, CA., James "Jamie" Robert Nowlin and spouse Judy of West Linn, Oregon; Shaun Lowell Carpenter and spouse Kristal of Gold Beach, Oregon; Barbara Hildebrand, and spouse Glenn of San Jose, CA, Steve Christian and spouse Dani of McKinnleyville, CA, and Debbie Christian of McKinnleyville, CA; grandchildren include Dameon Nowlin and fiancé Ashely Shelby of Savannah, TN, Kara Bodenstab of Eugene, OR, Kelsey and Halley Waring of Grass Valley, CA, Taylor Nowlin of Edgewater, CO, Kayla Nowlin of Sacramento, CA, Hunter Tidwell and spouse Courtney of Ripley, MS, Jacob, Alex and Ethan Carpenter of Gold Beach, OR; Steve Christian, Jr. and spouse Leah of McKinnleyville, CA , Kelly Hillebrand and spouse Josep Blanquer of Santa Barbara, CA, Angie Christian Jones, and spouse Tyler , and Sheri Christian of Arcata, California; great grandchildren include Avery Grace and Crew Nowlin, Marley Jade Brunson, Becca, Caroline and Brandon Christian, Sophia Jones, Zoey and Lily Blanquer. Pinky also leaves behind longtime friend, Jim Rydelius and caregiver, Cindy Precour. Pinky was preceded in death by his parents, John and Ann Nowlin; Wife, Dolores Seese Nowlin; siblings, Bob Nowlin, Nancy Wells, Donna Nowlin, Merle Nowlin, Raymond Nowlin, Maurice Boyle.
A Celebration of Life will be held at Mad River Grange, 110 Hatchery Road, Blue Lake, California on Monday, April 16 from 3:00 – 8:00 pm. Friends and family are invited to attend and join Pinky's large family in celebrating a life well lived. The family request that memorial contributions be made to Wounded Warriors Project, P.O. Box 758516, Topeka, KS 66675.
###
The obituary above was submitted on behalf of Lee Nowlin's family. The Lost Coast Outpost runs obituaries of Humboldt County residents at no charge. See guidelines here.