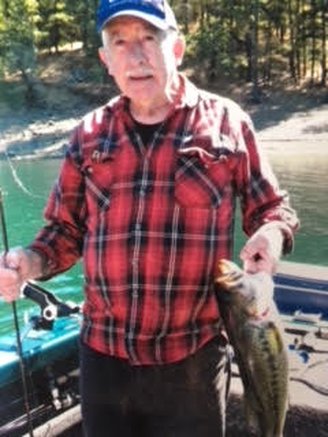 Floyd Calvo passed away peacefully at home with family by his side on April 18, 2018.

Our dad was born to Spanish immigrant parents Faustino Calvo and Remigia Valdivielso Calvo in Scotia on March 22, 1934. They lived in Wildwood near the Eel River, where he caught many fish for his mother to cook. They moved to Fort Bragg in 1945 to be near his eldest sister, Mary, who was established in the fishing industry. He worked very hard on the family farm, also learning the trade of house building from his father. Dad dropped out of Fort Bragg High School at the age of 16 to work for Union Lumber Co., riding the Skunk Train to the job site.
Dad moved to Fortuna in 1952 and went to work for Hammond Lumber Co. with his brother-in-law, Joe Crnich. Dad volunteered to serve his country joining the Army in 1956, serving 18 months in Germany, where he learned heavy equipment operation rebuilding roads and fish ponds for the locals. He often talked of the beer and local foods he enjoyed while stationed at Kelley Barracks near Darmstadt. When he came home, he returned to work at what was now Georgia-Pacific. He would continue working heavy equipment in the logging industry until retirement.

In 1959, our parents were set up on a blind date by their best friends, Robert and Joyce. They double dated, as Joyce's mom would not allow her daughter to go on a date alone. After a quick courtship, Georgia Wilson and Floyd Calvo were married in June of 1960, one of the last couples to be married at the Crannell Community Church. By 1969 they had four daughters and one son and lived in a house built by dad with both our Grandpas pitching in to help with the manual labor. Except for a short time in Fortuna, mom and dad lived their 58 married years in Carlotta. Dad came home at night with logging stories from the day, where everyone had a nickname. When he had time off in the winter dad could be found in his garage tinkering on old cars, chopping firewood and always trying to finish the house. He enjoyed a good meal, raising many of his own animals and planting a vegetable garden each year.
In his early fifties dad had a heart attack, he quit smoking, drinking coffee by the pot and overworking. After that enjoying life became more important. He bought his first of many fishing boats and became known for his smoked salmon and pickled fish. He started camping and enjoyed many family campouts at Trinity Lake and Lake Almanor. He and Mom would also camp at Shelter Cove, limiting out on salmon and bottom fish during the day. They traveled to Germany to visit daughter Tori and her family also visiting friends made while in the service. For their 50th wedding anniversary they traveled to Spain with Teena and Jodi Epperson, who he thought of as his fifth daughter, visiting the Basque region, where his parents were from. He came home from these trips talking of the food, drinks and good company that were enjoyed.
Floyd is survived by his loving wife, Georgia, and their children, Victoria (David) Jarvis, Teena Calvo, Todd (Penny) Calvo, Terri (Bob) Dillingham, Tricia (Ken) Bagnell. Grandchildren: Kimberly, Nichole (Eli), Sasha (Brandon), Ryan, Misty, Layton, Ben, Seth. Great-grandchildren: Sawyer, Wyatt and Tucker. Nieces: Melinda, Rosalie and Caroline. Nephews: Augustino Jr. and Bruce. Floyd was preceded in death by his parents and siblings: Mary Tarantino, Remi Crnich, Alice Brown, Tida Lee and Frank Calvo. Also, in-laws Everett and June Wilson.
The family wishes to thank Hospice of Humboldt, especially Christi, Erica and Hilary. Along with their help we were able to keep our Dad comfortable and at home where his faithful dog Maggie was able to stay by his side, always looking out for him and bringing him comfort. Dad requested no formal services. We would like to invite friends and family to a casual celebration of life at the family home in Carlotta, on May 19, from 2 to 5 p.m. At a later date we will take our dad's dip net to Centerville Beach and night fish. Some of our best childhood memories can be found there around a bonfire and thermos of coffee. And maybe if the fish are running we can leave buckets of fish on unsuspecting doorsteps in the middle of the night, just like our dad did.
Rest easy Daddy, we love and miss you.
###
The obituary above was submitted on behalf of Floyd Calvo's family. The Lost Coast Outpost runs obituaries of Humboldt County residents at no charge. See guidelines here.