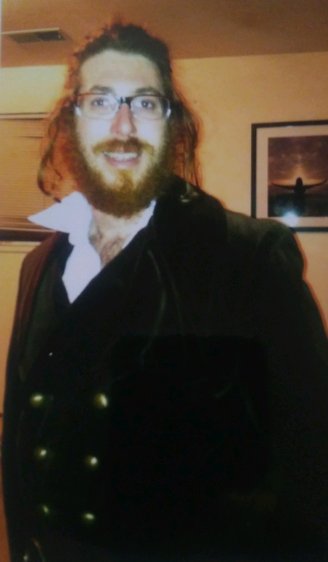 Russell Jay Green was born to Linda Blumberg and Milton Green in Farmington, Michigan on February 14, 1980. Russell lived in Eureka for the past sixteen years. He passed away unexpectedly on July 26, 2018 due to complications with asthma.

Russell enjoyed playing tennis and attending horseback riding camp when he was in grade school. His first year at camp, the resident dog followed him around the entire time. This lead to such a deep bond that he ended convincing his family to adopt Lady and brought her home to live with him.
He found great joy in attending WWE matches with his father, Milton Green and his older brother Shawn. Shawn promoted wrestling matches and managed several wrestlers. Russell always had a variety of gimmicks and suggestions for Shawn to incorporate into his matches. This influenced his love of shock value and theatics; creating stories in public places just to watch people's reactions.
Music of all varities played a huge role in Russell's life. His mom, Linda and stepfather, Robin, took him to his first concert. Together they saw Alice Cooper. His music preferences changed after discovering "The Electric Kool-Aid Acid Test" in the library. The summer after he got his driver's license he bought a VW bus and started touring with the Grateful Dead. He followed them on the road for many years, where he earned the nickname Papa Smurf because he consistently watched out for his friends and family, making sure they were taken care of.
Russell always went out of his way to put a smile on people's faces with his quick wit and ability to create a song on the spot to brighten your day. His huge heart shined brightly when he was handing out food to the homeless and giving to others in need. Russell was a mastermind at planning, delegating, and connecting people together that created lifelong friendships. His mother and stepfather continued to share their love of music with him through dancing together at Michael Franti & Spearhead shows across the country.
Always a free spirit, Russell was passionate about international travel and lived in Amsterdam for over a year. He often times invited friends along to share in the adventure, exploring Thailand, Cambodia, India, France and Israel.
Family members include: Beloved son of Linda and Robin Blumberg, the late Milton Green and Winona Green. Cherished brother of Shawn & wife Rochelle Green, Jason & wife Dr. Michelle Blumberg, and Zachery & wife Kimberly Blumberg. Loving grandson of the late Rubin, the late Lillian Goldberg, the late Jerry and the late Esther Green. Dear step-grandson of Ruth "Bubbie" Blumberg and the late Harry Blumberg. Also survived by many loving relatives and a world of friends.
A celebration of life will take place the last weekend in September. Contact close friends for details.
###
The obituary above was submitted on behalf of Russell Green's family. The Lost Coast Outpost runs obituaries of Humboldt County residents at no charge. See guidelines here.