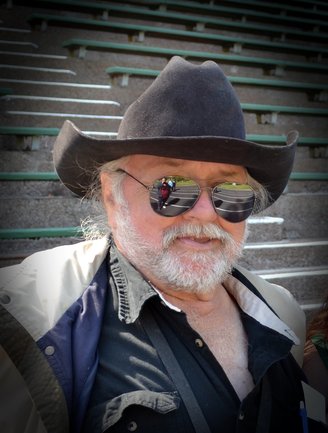 With a heavy heart we announce the sudden passing of Daniel "Danny" Eugene Machado.

After spending the evening with his granddaughters and great-grandson enjoying the chili cookoff as he did at the beginning of every rodeo week, Danny passed away unexpectedly sometime throughout the night of July 16, 2018 with his faithful companion Bailey resting at his feet. To his family he was Dad, Papa, and Dan; but to most he was Papa.
Danny was born at the Scotia hospital on August 16, 1952 to Alvin and Marjorie Machado. He spent most of his life in the Fortuna area. Danny attended local grade schools and graduated from Fortuna High School in 1971. He attended cooking school at College of the Redwoods following high school and did an internship at Samoa Cookhouse.
Danny married Bonnie Cataldi in 1972 and they had two children before parting ways. They maintained an amicable friendship for their children when growing up and continued for the grandchildren and great-grandchildren.
In his younger years Danny spent many days with a fishing pole in his hand, whether on a boat, at the jetty or the lagoon. Fishing was in his blood. His man cave was more of hobby room used to customize fishing poles and tying flies. In his later years he chose a life of simplicity. He enjoyed spending quality time with his family. Danny loved cooking, watching NASCAR, and telling stories to anyone that would listen. (Oh, the stories the telemarketers would hear when they call him! They usually didn't call back). He was a natural protector and would keep a lookout for all the children and neighbors where he lived. He could often be seen around Fortuna walking his faithful companion Bailey.
Danny is survived by his sisters Deborah Brown (Richard), Stella "Lori" Swain; brothers Alvin, Paul and Ronald Machado; Daughter Toni Boynton (Chris); Son Donavon Machado (Jenn); grandchildren Kelsie (Damian), Kaitlyn, Kaci, Carly, Christopher, and Charity. great grandson's Daniel, and Lucas who was born two days following his great papa's passing. nephew Brandon and Fallon Brown, Cody, and niece Sylvia Wigley.
He was preceded in death by his dad Alvin Machado; his mom Marjorie Smith; grandparents Stella Erwin, Alvin Machado, Mary Marks, Fred La Lone; his nephew Cole and numerous aunts, uncles and cousins.
There will be a celebration of Danny's life and a final birthday celebration on Saturday, August 18th from 2-4 p.m. at the Fortuna Monday Club. Come share any memories you have of Danny and enjoy some of his favorite foods.
###
The obituary above was submitted on behalf of Danny Machado's family. The Lost Coast Outpost runs obituaries of Humboldt County residents at no charge. See guidelines here.