For you faithful LoCO readers who have practically made a career out of posting comments in the "Thunderdome," here is the perfect opportunity for you to vent all those clever and hilarious things you come up with and make some money in the process. The beloved household game "Cards Against Humanity" is looking for contributing writers, and we at LoCO thought our fan-base might just be the perfect fit.
If you have never played (seriously, where have you been?), the popular party game consists of white "answer" cards which players use to fill-in-the-blank posed by a black "question" card. The card combinations tend to be funny and/or offensive.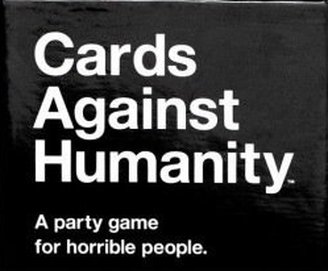 In the interest of keeping this post at least mildly family friendly, we won't post any examples. But you get the idea. It is essentially the card game version of the LoCO comments section.

The company is now looking to expand their card catalog, asking that interested folks submit their best 15 white cards and best five black cards. If your cards are selected, you will be hired as a contributing writer and make some serious cash!

"If your cards are solid, you'll join our pool of remote contributors and make $40/hr writing poop jokes as needed — which is 'sometimes,'" the post reads.
The post even provides some tips for writing good cards:
The "blank" should not come after an adjective or article.
The "blank" generally works best after a preposition (for, with, of, to) or a verb (kill, fuck).
The "blank" generally hits hardest toward the end of the sentence, like a punchline.
The job can be done remotely, so you don't even have to leave the comfort of your own home and you'll still have plenty of time for slugging it out in the "Thunderdome." It is literally the dream job. Plus, it would be pretty great to have some Humboldt themed twists in the mix.

Submissions are due August 31. So get going! Check out the guidelines and apply here.