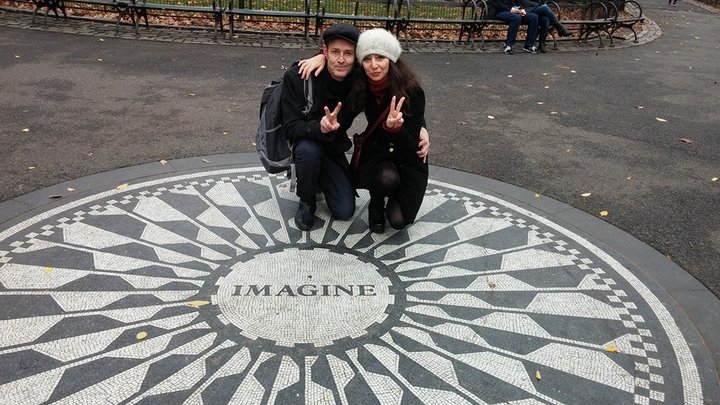 December 2015. The air was unseasonably warm, the skies clear and sunny. We were lucky, for the harsh storms that would lash the city wouldn't come until after we left a few days later.

My wife and I were in New York en route to visiting my family in Pittsburgh. We'd already been through the shadows of the towers of Lower Manhattan (for my wife Özge's sake, it was her first time in the city), and we had browsed Don Draper's stomping grounds over on Madison Avenue, the strident flags hanging over the shops on Fifth Avenue, Tiffany's, the Plaza Hotel – the New York of the movies and TV shows. We'd hit the Met to have a look at the Rembrandt Room I had told Özge so much about, and also peeked in on their Ottoman exhibits.
We had lunch in the Park, where everyone – New Yorkers and visitors alike – sat at picnic tables outside kiosks serving all kinds of different dishes. The atmosphere was festive, with Christmas just around the corner.
Now, it was time to hit the Dakota.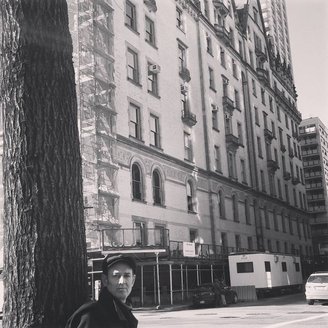 It's something I make a point of doing every time I'm in New York, and I never tired of it, seeing the Dakota again. And this time there was the added pleasure of showing it to Özge, my new bride. So we crossed the Park and headed for the address that by then I knew almost by heart – 1 West 72nd Street.

My love of the Beatles, and John and Yoko, goes way back. I can specifically pinpoint the moment I became fascinated by them. Unfortunately, it was December 9, 1980. I was in the third grade, and got home from school. The newspaper was sitting on the coffee table in the living room. LENNON'S DEATH STUNS WORLD was the front-page headline.
"Who's 'Lennon?'" I asked my mother, who was in the living room making dinner.
"He was the leader of the Beatles," she answered, and I remember she gave me this look from the kitchen, and the look told me this fact was significant. So I read the whole article (the first time I had read anything in the newspaper besides the comics). The details were disturbing and vivid to my 9-year-old imagination: "… was arriving home at his residence at the Dakota building late Monday evening …. Shot as he was stepping out of his limousine … "I've been shot!' he reportedly cried out … ."
My father got home from work and as usual he turned on the news. It seemed like for the rest of that evening, and the next few days, the news was all about this guy John Lennon, and the Beatles. I was drawn to the black-and-white footage of these odd-looking boys playing this strange cool music, interspersed with the present-day shots of candlelight vigils, of people crying.
At school, one of the students had a copy of the new Lennon record, Double Fantasy, and we all listened to his last song, "Starting Over," which was playing on the turntable.
"I cannot believe that man is dead," said our teacher solemnly, slowly shaking her head and staring fixedly at the picture on the album cover.
My mom was my age when the Beatles first arrived in America back in 1964. I quizzed her endlessly about them, and my interest to her must have been surprising and touching. A couple of weeks later, for Christmas, she gave me my first Beatles album, "Yellow Submarine." And the seeds of a lifelong relationship were sewn.
(OK, everybody has their own How-I-Met-the-Beatles story, and this one is mine.)
###
Over the years, I'd been to New York twice before, and the idea of visiting the Dakota always hit me whenever I passed Columbus Circle and headed toward Central Park. Now on this third trip, with my wife, I enjoyed just walking the long, long sidewalks beside the Park, with the buildings of the Upper West Side on the left, and people out walking their dogs, or jogging or just sitting on the benches and talking. New Yorkers love to talk, and talk, and talk.
We watched and listened.
"Baby, look at us!" my wife said. "Are we like the only people smoking?"
We were sitting on one of the benches, resting and having a post-lunch cigarette. I looked around, startled. Yep, we were the only people – possibly in the whole city of New York – having a cigarette at that particular moment. Maybe we were breaking the law, for all we knew. Oh well. Well, well, well, as John would say. I wonder what he would have thought of this New York. So clean, so orderly, so –
"So organized," my wife confirmed. She liked it, enjoyed its contrast to the chaotic jumble of our Istanbul.
And so safe. When we arrived the night before – after a subway ride that felt like a journey into eternity – dragging our suitcases through the rain at 3 a.m. in search of our friend Charlie's apartment – not for a single moment did we feel at risk of being molested or harmed in any way.
But then, Lennon felt the same way. "Here in New York, I can go out and walk around and nobody bothers me," he boasted, time and again. He could just be another New Yorker, blend in with the crowd. Until he was shot. Nevertheless, I know how he feels, and I'm not an ex-Beatle. Even with just a day pass, you still feel like New Yorker, and it feels special.
"Can you imagine us living here?" I asked.
"Me living here? No way," my wife said, taking the cigarette for a puff. "You have to have money to live here."
It was true, alas. As always, I could easily imagine living here. If only I could write that million-selling novel (hint: come on readers, help a guy out!). Looking around at the trees swaying in the Park, taking in that unplaceable green smell (probably sewage), the feeling of space. By that I mean head space. You feel like your thoughts can freely travel around, catching themselves on bits of conversation on the lips of passersby, or else up to the windows of the tall white residences and the lives of the people there.
As you can see, one of the things I share with John Lennon, along with his music, is a big-hearted, eternal love of New York City. I HEART NY big time, baby.
"You hear a lot of people complain, but nobody leaves," Lennon told a pack of reporters sometime after he and Yoko relocated from London in the early 1970s. "It's the greatest city in the world!"
Of course, the New York he and Yoko found was the New York of Andy Warhol (one of Yoko's close friends and allies in the art world), of Martin Scorsese's "Mean Streets," of Woody Allen's "Manhattan," of the days when Times Square was a red-light district, filled with hookers and hustlers. It was a dirty, vibrant, pre-9/11 New York.
The New York I (and now Özge) found was the post-9/11 New York. The post-Giuliani New York, where Times Square is now family friendly, where the Naked Cowboy is about the raciest thing you will see. Once-gritty neighborhoods like Hell's Kitchen (where our host Charlie lived) are now cleaned up and gentrified, home to white collar professionals and a slew of hip ethnic cuisine restaurants.
"Anyway," Özge says, interrupting my daydream, stamping out the cigarette and placing it carefully in a rubbish bin. "If we did live here, one thing is for sure: we would both have to give up smoking."
###
We walk together, through the park along the footpaths, holding hands like the newlyweds we were. The Park is always a treat; you feel as though you were in the true heart of the city. I think about Lennon and Yoko and the walks they had on these very same footpaths – John in the silver jacket he boasted of actually buying himself in one of the local shops. He was proud of the fact that he was able to do such a simple thing as go in a shop and buy something with his own pocket money. I think of Yoko, her ever-placid face, walking silently at his side, the son Sean back at the apartment in the care of the governess.
"It would be nice, having a nanny," Özge says, as I tell her these thoughts. "A nanny, and a maid, and a driver. An apartment overlooking Central Park. Baby, are we poor?"
"Indeed we are, my love."
"It's not fair."
"Nope, it's not."
Presently we arrive at Strawberry Fields, the commemorative area that Yoko set up to honor her dead husband's legacy. This section of the park is filled with benches that have been donated by people who also have lost loved ones. Inscriptions of the dead tell of their love of the Beatles, of John Lennon. They quote songs, and express thanks.
At the center lies a stone mosaic, with the word "IMAGINE" and the shape of an eye. Lots of people come here to snap photos, selfies, and to pay homage. Nearby, a guy belts out songs on an acoustic guitar, and some people sing or just hum along. Every time I visit, there's always some guy (maybe the same guy?) with an acoustic guitar. There's also a guy crouching in the bushes, smoking a joint in Lennon's honor. My first visit, I actually sat and smoked with one of those guys – a beat-looking ex-hippy in his late fifties.
"I think John would have liked this memorial," I said, after inhaling the skunk weed.
"Yeah, I think so too, man," my comrade responded, taking another hit.
"Did you really smoke weed here?" my wife asks, disbelievingly.
"Yeah, really."
"What are you like really?"
We couldn't resist the urge to take a photo ourselves over the IMAGINE mosaic. A young woman obliged, waving us to sit a little closer over the eye to get a better picture.
As she was taking the photo, I overheard part of a conversation between some guys who sounded Eastern European by their accents.
"Yes," one of them was saying, deeply moved. "Imagine all the people of the world!"
###
It was time for the last part of the pilgrimmage: the Dakota itself.
We walked out of the Park, where the Dakota catches your attention immediately. You can't miss it, with its unmistakable, iconic 1880s design. Even if you don't like the Beatles or John Lennon, you must have seen this apartment building in such films as "Rosemary's Baby."
From the outside, it looks every bit the storied place that it is, home to stars, to legends, even to ghosts and the occult, according to some. That day, however, much of the front facing the Park was covered up. The building was undergoing some kind of exterior renovation.
"There it is," I said to Özge.
We crossed the busy street, and I showed her where it all happened, that dark night in December 1980. The entrance where the shots were fired, and where my hero had fallen. Even today there's a doorman at the entrance, probably not the same guy (Jose?) who was working the night of the shooting, but still, it reminds you that not much has changed. Yoko even still lives there.
"I wonder if she's home right now," my wife mused, looking up to the windows. "Wow, baby. Can you imagine living here?"
"Imagine."
Actually I wasn't thinking that. As always, I was inhabited with this feeling of unreality. In those moments, I was a third-grader again. Reading that front-page story. It was almost like I was trying to step back in time, back to the very moment itself. What was I trying to do? Relive the tragic event? Somehow hoping to "save" Lennon from his assassin? Was it morbid curiosity? Or was it that I was trying walk in Lennon's skin, to breathe the same air, and by doing so, get to know him better?
I can't answer those questions.
There are places I remember
all my life
though some have changed
some are dead and some are living
some have gone
and some remain –
"Don't confuse the songs with your own life," John once cautioned an overzealous fan. Wish others had heeded that warning.
Yes, it was time to go, time to get on with the rest of our visit. We were tired from the busy day of walking and seeing.
"Let's go back to the flat and sleep a while," my wife suggested. "Then later on you can take me to that jazz club you told me about. What was the name of it again?"
"Birdland," I said. "Good idea. We need to check and see who's playing first."
Holding hands, my wife and I walked back toward Columbus Circle, leaving the Dakota and the past behind us – for now. Our twin figures blended in the reflections of the passing car windows, reminding us that we were just another of many couples who had walked these streets, their heads full of romance and dreams.
So long, John, so long, Yoko. So long, Dakota.
To be continued –
###
James Tressler, a former Lost Coast resident, is a writer and teacher living in Istanbul. His books, including the recently published "Inside Voices," can be found at Lulu.com.