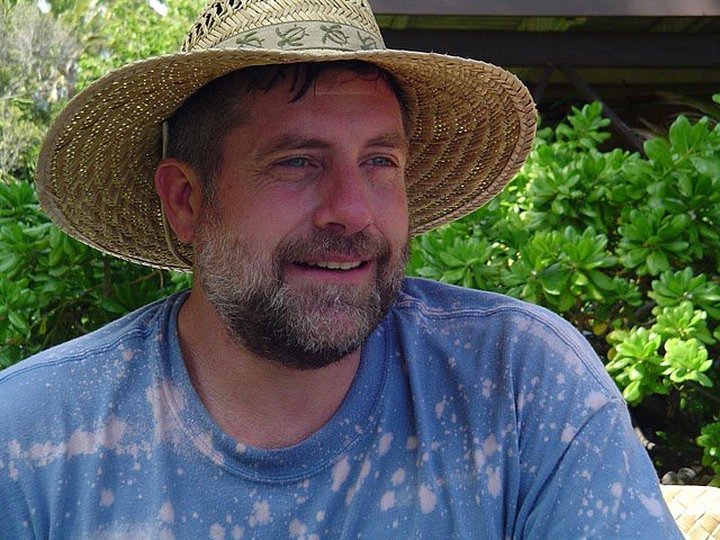 KWS, FishmanK, Kevin Wayne Stockwell has died.

Born in San Jose, California on December 30, 1963 to Glenn Wayne Stockwell and Carol Wyckoff Stockwell, Kevin's childhood had brief stops in Kansas and Washington before landing in Loleta. After his parents divorced in the early 70s, Kevin lived with his mother, sister and brother in San Jose before moving north to be with his dad and stepmother Christina in Fort Bragg in the mid '70s.
In 1977 sister Lisa joined Glenn, Christina and Kevin for a one-year exchange to England, where Kevin played English Football and enjoyed what amounted to an international tour in his early teens. After returning to Loleta with the family in 1978 Kevin found conflict at Fortuna High, and he decided to run away from home to live with his grandmother in Los Altos. Graduating from Los Altos high in 1982, Kevin stayed in the Bay Area where he made lots of friends in the skating and punk scenes of San Jose and other south bay locales.
Eventually Kevin followed his mother to Arcata in the late '80s, where a family property opportunity helped him to develop trades skills and to know the joys of property management! Kevin studied art at HSU, became a dive master in the SCUBA program there, made lots of friends and contacts in the community, and went on to live in Arcata for the past 30 years or so. Kevin loved the outdoors, and that led to his acquisition of property in the Little Larabee Valley out past Bridgeville. After years of "playing the field" with many lady friends and a few serious girlfriends, Kevin met the love of his life, Nikki, and they were married on the big island of Hawaii on January 29, 2010 in the presence of family and close friends. Nikki and Kevin enjoyed years of living in Arcata and working on the property out highway 36 while also managing family properties in Arcata and Dinsmore. Being in the outdoors was always a passion for Kevin, and he loved hosting people out at the property where he had a customized disc golf course and unique adventures for every occasion. Kevin had the ability to work very hard and push his body to extremes - this was always a strength and also a weakness, but it was always impressive to witness what he could achieve when he set his mind to it. Kevin will always be remembered for his skills with mechanics, welding, fabrication, agriculture and general ingenuity, and he was an accopmlished artist and glass blower.
Kevin was preceded in death by his father, Glenn Stockwell, paternal grandparents, Wayne and Bernice Stockwell, maternal grandparents, William Howard Wyckoff and Virginia Allen Flickinger, his aunt Gina Wharton, cousin Rick Allen and a few friends along the way. Kevin is survived by his wife Nikki, his mother Carla Stockwell Lockwood, a brother Eric Stockwell, sisters Lisa Whitchurch and Veronica Lockwood, uncles Gene and Robin Stockwell and Travis Wyckofff, nieces Theresa Whitchurch and Claire Stockwell, nephews Brett Whitchurch and Collin Stockwell, and cousins Allison Fox Cademartori, Zach Stockwell, Electra Stockwell, Mads Stockwell, Jacob Stockwell, Weston Wyckoff, Cassie Wyckoff, Lauren Wyckoff, Mitchell Stockwell, Taylor Stockwell and Shaun Stockwell.
A celebration of life will be held on Kevin's birthday - December 30th, 2018. From 2 to 5 PM at the Fire Arts Center in Arcata we will remember Kevin and his special way. Please join us.
###
The obituary above was submitted on behalf of Kevin Stockwell's family. The Lost Coast Outpost runs obituaries of Humboldt County residents at no charge. See guidelines here.