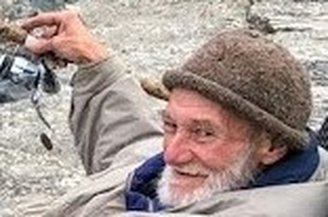 Rolf Hermann Christian Durang
1951 – 2018
Rolf Durang died peacefully after a long battle with cancer on December 7, 2018 at Sea View Rehabilitation and Wellness Center in Eureka. We lay to rest a friend to many, upriver and downriver. His impact on all of us will not be forgotten.
Rolf was born in Celle, Germany on March 4, 1951. Many described him as a free spirit, independent thinker, unconventional. He was grew up in the late '60s, undergoing the counterculture movement that much of the world was experiencing. He lived by his own rules.
He traveled the world, coming from Germany, choosing Orleans as his home with his wife Poppy, whom he described as the love of his life. Both of them started working on organic farms in the area and loved living off the land. Rolf enjoyed good novels, reggae music, dancing, playing in local pool tournaments, cutting firewood and Sierra Nevada beer. He respected all people of this area and had friends from all walks of life.
Rolf's welcoming smile and laughter were infectious. He valued and appreciated every moment and the simple things in life. He lived the life he wanted to live with no strings, no attachments. While he was often on the move, and living from job to job, he felt to be the richest man in the world, as he had his friends, his community, the rivers, and mountains he loved. Even in his own times of prosperity, he would give everything he had to those in need.
He developed patience from fishing. It was his passion and he found peace from spending hours on the river. He enjoyed mastering his skills and the thrill that laid in the challenge. He loved to spend time landing the big one, but to him it was an immeasurable life lesson that everyone needed to experience.
Rolf was extremely self-reliant. All he needed were the clothes on his back, a good book and his cigarettes. He could hitchhike from one river community to the next, fishing along the way, giving to the home he stayed with at during dinner time. His visits were welcomed surprises, filled with good food and storytelling.
Rolf was a highly respected mason by trade who knew the "true" meaning of plume, flush and level. His common materials for construction were all types of river rocks that he meticulously handpicked and collected for building welcome signs, walkways, stairs, planters, retaining walls, fireplaces, stove ovens and fire pits. He worked like an ox, stronger than most people half his age. His artistry and workmanship are cherished by many between Willow Creek and the Salmon River.
Rolf's connection to our river community was his strength and of most importance. He cared about the land and volunteered to help with youth fishing derbies, and always advocated for river restoration. He brought people together, expanding our bond. Those relationships will continue and remain strong even after his passing.
Rolf is preceded in death by his wife Elodie Grace (Poppy) Durang, his father, Horst Durang, and his mother, Christa Reimers. He is survived by his two sisters, Elske Othmer of Hannover, Germany and Maike Fingerhut of Mannheim, Germany.
We would like to especially thank the Karuk Tribe, and the staff from Resolution Care, Hospice of Humboldt and Sea View Rehabilitation and Wellness Center for their loving care during Rolf's battle with cancer.
Rolf Durang's funeral service was held on December 11, 2018 in Orleans. In mid-January 2019, the Orleans community will host a "Celebration of Life" memorial that will honor Rolf's amazing life journey. All are welcome, and additional information about this river community gathering will be posted soon.
Until we meet again, "Herr Landsman" (fellow countryman and friend). You will be truly missed by all and will remain in the hearts of everyone along the Klamath, Trinity and Salmon River watersheds. We wish you well on your next journey and we thank you for enhancing our lives.
"My soul stretched wide its wings, and flew through the quiet lands, as if going home" (R. Durang)
###
The obituary above was submitted on behalf Rolf Durang's family. The Lost Coast Outpost runs obituaries of Humboldt County residents at no charge. See guidelines here.