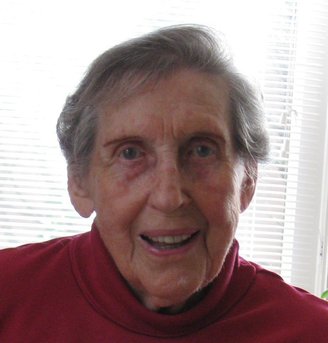 Born in Clifton Forge, Virginia, Betty was the younger daughter of Alma Gertrude Connell and Earl Godfrey Schaeffer. She went to Clifton Forge schools and later attended Mary Washington College in Fredricksburg, Virginia.

On graduation she married William Trantham Briggs who was a Second Lieutenant stationed at Arlington Hall outside of Washington, D. C. Betty went to work on the military base as a cryptographic clerk. At the close of the war, William joined the Foreign Service and their first posting in 1945 was to Quito, Ecuador, as Third Secretary of Embassy. Here their first child, Willa Elizabeth, was born. Their second posting was to Sao Paulo, Brazil, where their second child, Leafy, was born. In 1951 they were transferred to the Embassy in Rio de Janeiro where a son, William Owen (Bill) was born. In 1956 they returned to the states when William was assigned to the State Department in Washington, D.C.
They spent seven years in this assignment, living in Falls Church, Virginia, just outside of Washington. Their last child, Ellen Trantham, was born here. In 1963 they were transferred to Montevideo, Uruguay, where William was made second in charge at the Embassy. In 1966 William was once again assigned to the State Department in Washington and they moved in to his family home in McLean, Virginia.
Betty enrolled in the local university and took classes in Library Science after which she was employed as a school librarian at Louise Archer Elementary in nearby Vienna, Virginia. In 1970 Betty and the four children moved to San Jose, California, where she enrolled in San Jose State University and received her graduate degree in Library Science, meanwhile working as librarian at Roosevelt Junior High School and then to a new school, Castillero, where she set up the library. She worked there for the next 18 years.
On retirement in 1988 she moved to Ferndale with Willa and Ellen, and they were joined later by Bill and Leafy. In Ferndale she volunteered at the Ferndale Public Library and worked there 25 years cataloging and processing new books and reorganizing the card catalog. She set up an art library for The Ink People Cooperative in nearby Eureka, and served as secretary for Ferndale Chamber of Commerce from 1990 to 2006.
Betty is survived by her four children, a grandson, Nick and his wife Stephanie; a granddaughter, Laureen; two great grandchildren, Slade and Raven; a niece, Carol Parker Smith; and nephew, Leslie Parker.
She was especially thankful for Ellen and Leafy who shared her home and saw to her comfort and well-being; for having Willa and Bill living close by; to Dr. Tamara Dennis for health care; and for the myriad cats and dogs that enriched her life through the years.
At Betty's request there will be no services. In her memory donations may be made to Friends of the Ferndale Library, P.O. Box 397, Ferndale, CA 95536.
###
The obituary above was submitted on behalf of Betty Briggs' family. The Lost Coast Outpost runs obituaries of Humboldt County residents at no charge. See guidelines here.