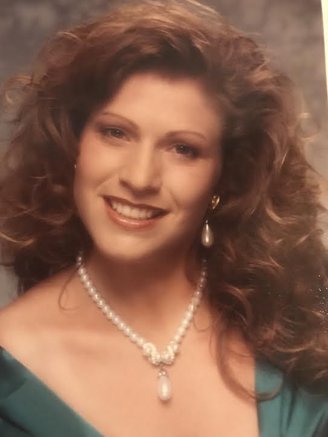 Donna Marie Shewry was born in Garberville to Don and Gloria (Rowe) Dunlap of Weott on Nov. 26, 1970 and was suddenly taken from us in Del Norte County in a tragic auto accident on Nov. 28, 2018.

It was in Weott that her family made their home and she and her sisters, Barbara and DeAnna, spent their earliest years. Stories of cardboard hill slides in the dry grass and homemade, brakeless go karts were excitedly told while showing the scars as testimonials to the exploits. A truer country girl who embodied the spirit of Humboldt County would be hard to find. Along with many good times, more than her fair share of pain was also learned there. After her parents had to move apart and she moved to Fortuna with her mother, Donna would return to spend the summers at her best friend Lynette Lange's house. Tragically, Lynette and Donna were involved in a motorcycle accident and Lynette was killed. Donna never forgot her friend and made certain every year to visit her friends' gravesite to clean up and decorate.
Donna attended school at Toddy Thomas and graduated from Fortuna High in 1988. She loved sports and was a fierce competitor. She enjoyed basketball, volleyball, track and field and softball. Sports stories and injuries were a favorite topic of hers. During this period of Donnas' life she was adopted by the generous and kind Jim Gordon of Fortuna, who was now married to her mother. Jim tried hard to tame his new daughter and thankfully achieved a little success.
After high school Donna went to work for Bayley Suit in Fortuna. It was there she met another great friend, Sherry McDonald. Sherry and Donna remained close friends throughout her adult life until Sherry's untimely death just three months ago. Donna left Bayley Suit to attend College of the Redwoods Dental Assisting Program in 1992 and would graduate there in 1993. Donna truly loved dental work and quickly found a job at Redwoods Rural Dental in Redway. She remained there until 1995 when the commute became too much and returned to Bayley Suit.
In 1996 Donna met and, would later marry, Glenn Shewry of Loleta. Together they raised two children, son Lane and daughter Lindsi there. Donna raised her children well and may have raised her voice (as any who knew her could attest), but never did she raise her hand. All of her kids' many friends knew her first rule was to make eye contact when talking to her. Her husband enjoyed watching some of the shy ones struggle with this. She managed to always prevail. Donna truly knew how to make a house a home and anyone who knew her was aware of her passion to decorate and personalize. Donna almost single handedly transformed one of the homeliest looking houses in Loleta into her own craft and holiday display case. Her small home would have a new theme for every season. Virtually every inch of the interior and exterior of the home was in play. One of her favorites was Halloween and during that particular season you could hardly sit on the couch and enjoy an early morning cup of coffee without detonating some battery powered ghost, mummy or severed hand. Christmas was no different and one of her last acts was setting up this year's display. Her home Is also filled with tables, chairs, bookshelves, cutting boards and cabinets that she rehabilitated herself and rotated into different configurations and arrangements. Sometimes you never knew where the recliner would be when you got home. Hand painted signs and wall art filled the void between holidays. The fact she rarely wasted time with a tape measure or square only added to the items unique quality and have made them priceless to her family.
Donna may have had a tough persona but those lucky enough to have known and loved her also saw she was as kind generous and loving as anyone could be. So long as she had what she needed, she would give anything away.
Donna is survived by her husband Glenn, son Lane and daughter Lindsi, mother Gloria Gordon, sister Barbara Church and her two sons, Kyle Friend and Keith Farnsworth, sister Deanna Fontana and her children Jared and Jordan Rodrigues and Jacob and Jasmin Fontana, stepbrothers Mark, Bob and John Gordon, stepsisters Julie Williams, Deb Hayes and Michelle Williams. She is also survived by numerous cousins and her beloved dog, Millie.
She is preceded in death by her grandparents Neva and Charlie Rowe, grandparents Barbara and Albert Dunlap, paternal father Don Dunlap, legal father Jim Gordon, sister Patricia Dunlap and dear friends, Lynnette Lange and Sherry McDonald.
Donna's favorite charities are Miranda's Rescue in Fortuna and Stanford Children's Health In Palo Alto.
A graveside service will be held at Sunrise Cemetery in Fortuna on Friday Dec. 9 at 2 p.m. A memorial will also be held at the Rohner Grange in Rohnerville with food provided immediately afterward.
###
The obituary above was submitted on behalf of Donna's family. The Lost Coast Outpost runs obituaries of Humboldt County residents at no charge. See guidelines here.