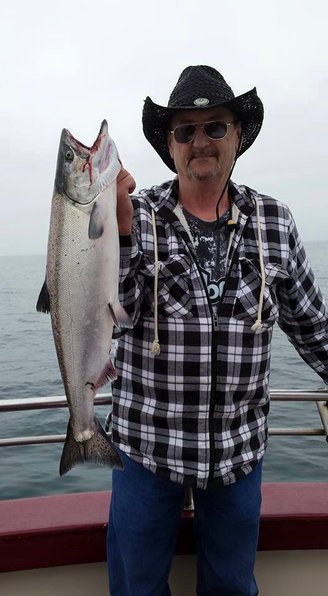 Ed Larsen left this earth to his eternal home on November 28, 2018,

Ed was born on November 6, 1947 in Arcata to Rose Sanford and Tex Baker. At three days old Ed was adopted by John and Ruth Larsen of Ferndale.
At Ferndale High School Ed excelled at basketball, where his records still stand today. In addition to his basketball skills, Ed was especially proud of playing on the Ferndale Men's slow pitch softball team while still in high school and holding his own.
After graduating from Ferndale in 1966 Ed volunteered and served honorably during the Vietnam War. He served from 1966 to 1970. After serving in the Air Force, Ed joined Bank of America's management training program. He finished at the top of his class. Ed was the only High School graduate among business majors and MBAs. After a year of running his own branch in Rio Vista, BofA tapped Ed to be part of the International Auditing team. Ed travelled the world in this position and his passport boasts a myriad of exotic places, from Amsterdam to Lagos, Nigeria and many lands in between.
Upon his return to the states, Ed continued in banking for many years. During this time he also began his baseball coaching career. He coached Shoreline High School's baseball team with amazing results and always had his hand in Big League. Ed never needed to have a child in the game to be a coach although he coached his kids when he could.
Never one to become stagnant, Ed became a journeyman carpenter when one of his Big League players' father was so impressed with his work ethic on the field that he asked him to come to work for him in the construction field. Ed worked in the construction field for many years and helped build numerous homes in the Vancouver, Washington and Portland, Oregon area.
Ed was intelligent, opinionated and passionate. He loved his family deeply. Fishing was his passion and he adored the North Coast for its' natural beauty. No matter how far Ed travelled, Ferndale was the place that he would brag about. Ed had a terrific sense of humor and would give anyone the shirt off his back. He loved animals and working in the yard whenever he could.
Ed is survived by his wife of 33 years, Lori Larsen and their three children; Ashley Larsen of Klamath, Tracey Mildbrandt and her husband David Mildbrandt of Carlotta , and his only son, David Larsen of Fortuna . He is also survived by daughter Kiristin Hansen in Washington State. Ed also leaves behind the three loves of his life, his grandchildren, Eric, Knox and Phoenix Skye along with numerous other family and fabulous friends.
Ed's family has a guardian angel. Ed never waivered in his belief in the Lord. This complicated, passionate man is now resting with his savior.
Services will be held on December15 at one o'clock at Goble's Fortuna Mortuary.
###
The obituary above was submitted on behalf of Ed Larsen's family. The Lost Coast Outpost runs obituaries of Humboldt County residents at no charge. See guidelines here.