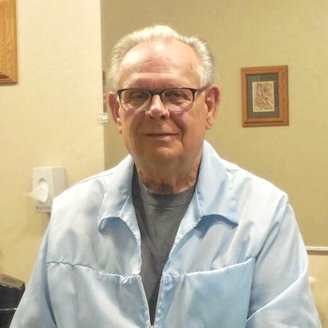 Wiley "Dennis" Brown, 74, of Eureka returned to his heavenly home on February 4, 2018 after a lifelong battle against heart disease. His devotion to his family and his firm belief in God lifted him and gave him peace.

Dennis (Den, Dad, Pops, Grandpa) was born to Preston and Eva Brown in Yuba City, Calif. on April 14, 1943. He attended schools in many locations but returned to Yuba City for high school.
Dennis was always a hard-working man. He learned to drive at an early age and ultimately settled on truck driving as a vocation. He was dedicated to the job and spent a lot of time on the road. He saw places in this country that not a lot of people get to see. He loved his work and took great pride in being the best at what he did. While in his thirties he had his first heart bypass and this led him away from truck driving.
Dennis was retrained as a barber and started his own business in Fortuna (The Designer's Chair). He eventually returned to truck driving and went on the road with Isabel as a truck-driving duo. Again, his health prevented him from continuing and he returned to barbering. He worked for multiple barbers in the Eureka area, gladly donated haircuts for a number of years at Redwood Teen Challenge, opened Den's Barber Shop, and finally closed the shop a few months ago. He was currently working at Robert's Barber Shop and continued to cut hair until his last day. Through the years, he cut hair, made a lot of friends, and listened to a lot of stories.
Dennis was blessed with a very large, devoted, and loving family. He married Isabel 53 years ago and they raised their six sons with patience, discipline, and love. They taught the boys to work hard and dedicate yourself to the task at hand. Consequently, all of his children have a strong work ethic which they got from their parents. Growing up, the family spent a lot of time together at 'the mine' camping and having fun. 'Pops' can be proud of the fact that he raised six boys who are best friends that love to spend time together.
Dennis is survived by his always loving and grateful family, wife Isabel, sons Russ (Cindy), Lane (Tami), Clarence, Ron (Pam), Dave (Ann Marie), and Gary (Vicki). He is also survived by grandchildren Ross (Kelly), Riley (Rhiana), Kelly (Marti), Cari (Jimmy), Shawnatee, Christine (Mike), "DJ" (Taylor), Tammy, Taylor, Cody (Jena), Kyle (Tiana), Brian (Rebecca), Bradly (Trista), Andrew (Felicia), Ashli (Andy), Chelsea, Spencer, and Kurtis (Madi). Additionally, he is survived by 35 great-grandchildren, three great-great grandchildren, sister-in-law Kathy, niece Robin, nephew Wesley, brother-in-law Will (Katie) as well as many other family members and friends. He is survived by his Bible Study Group Dan and Carol Olufsen, Tom and Ginny Thompson, Steve and Linda Lorenz, Phil and Bev Magliano, Larry and Doris Akin, Cherie Wilmot, as well as friends Ronda Hall, Rick and Ruth Motherwell, Jim and Shelley Boyer, and Todd Boyer.
Dennis was preceded in death by his father Preston, his mother Eva, his brother Rob, his brother William ("Skip"), his nephew Preston, and daughter-in-law Ruthie Diane.
Dennis was a quiet and soft-spoken man. He was also serious, funny, loving and always found time to listen and, if asked, offer advice. He loved his family more than anything and is dearly missed by his family and friends, who celebrate the fact that he is at peace with his creator.
The family is thankful and grateful to Dr. Donald Baird for his care of Dennis over several decades. No words can adequately express the depths of our gratitude.
Dennis was cremated. A celebration of his life is planned locally on February 25, 2018 at 1:00 p.m. in the Wharfinger Building, 1 Marina Way, Eureka, CA. Lunch will be served at 1:00 p.m. with the celebration to follow by 2:00 p.m. Tom Thompson will officiate the service. Music will be led by Pastor Mike Gibb.
Internment will take place on April 13, 2018 at 1:00 p.m. in the Paradise Cemetery, 980 Elliott Rd., Paradise, CA.
The family gratefully declines flowers and donations, but prayers, condolences and memories are gladly accepted. If you'd like to do something in Dennis' memory, please make a donation to a charity of your choice or to the American Heart Association.
###

The obituary above was submitted on behalf of Dennis Brown's family. The Lost Coast Outpost runs obituaries of Humboldt County residents at no charge. See guidelines here.