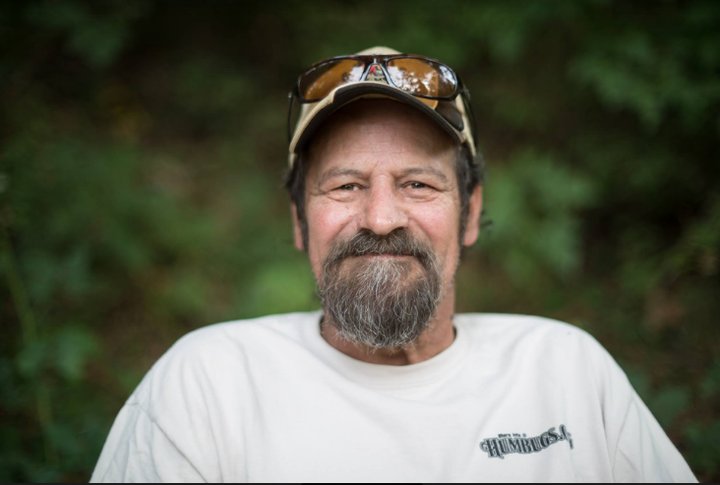 Born in Sacramento on February 23, 1952, Kenny Crumley passed away on January 26, 2018 in Eureka, surrounded by love and family after a brief but fierce battle with cancer.

Kenny attended Ponderosa High School in Rescue, Calif. and relocated to Eureka with his family for his senior year of high school, graduating from Eureka High in 1970. He excelled in wrestling at EHS and went on to the wrestling team at College of the Redwoods. Kenny was especially proud to have placed fifth in the state championships while at CR. He would probably like you to know that you can still see his trophy in their case today.
As Ken's career got started, he worked at Kacy's Market in Cutten for several years and then ventured off to Yreka to operate an experimental store for the Kacy's ownership. Kenny then moved back to Eureka and began working for North Coast Mercantile. He used his skills as a likeable people person to sell wine to many local grocery stores. After about 15 years of wine sales, Kenny tried his hand in many different avenues of career opportunities. Ultimately, he became a licensed hardwood floor installer, a trade he learned from his cousin, Mark, while in Sacramento. In the last 20 years Kenny learned to paint homes with his friend, Mike Spencer, and enjoyed working all kinds of handyman jobs with his best buddy, Matt Chipps.
Kenny had fun volunteering and working on the Redwood Coast Music Festival with and for his good buddy Glenn Maxon. Later, Kenny was blessed to be on the Board of Directors for the RCMF. He loved Blues by the Bay events and worked behind the scenes transporting musicians to and from the airport.
One of Kenny's other passions was writing. He became a prolific blogger on several sites. Hot Air was his favorite. He was always very proud when they chose his blog to publish on their site. He had a lot of influence in his online communities and made friends far and wide. Kenny was also an avid Volkswagen enthusiast. He, along with his buddy, Bill Taylor, enjoyed belonging to Humbugs.
Through the example of his father, Charles, Kenny learned to love the outdoors. Salmon fishing in the ocean or searching for big trout in the Feather River was his joy. He also loved hunting, but it was mostly about being out in "God's Country," as he put it. Kenny was a major San Francisco Giants baseball fan, relishing writing about their exploits as well. Golfing was another thing Kenny liked to do; especially with his buddies and brothers. Being competitive, he loved to whoop his brothers at just about anything. Graeagle, Calif. was his favorite place to visit. His family has an incredible amount of history up in that town and in those mountains.
In Kenny's words, "My greatest assets are my family and friends and my faith in my Lord and Savior, Jesus Christ."
Kenny is preceded in death by his father, Charles A. Crumley and survived by his mother, Wilma Crumley, brother Tom Crumley (Mary), sister Sue Wall (Jim), brother Michael Crumley (Cathy), brother Kevin Crumley (Laurie), brother Robert Crumley (Nina), goddaughter Shelby Porter and dozens of close cousins, nieces and nephews.
The family would like to thank ResolutionCare, Hospice of Humboldt, and the nurses at St. Joseph's Hospital, Eureka, for all of their care and support. In lieu of flowers, please feel free to send donations in Kenny's name to Hospice of Humboldt.
A Celebration of Life service and reception will be held for all who'd like to join us on Saturday, May 5, 2018 at Coastline Church (located on HWY 101 between Eureka and Arcata at the Indianola Cutoff, adjacent to Cash & Carry) from 1 to 4 p.m.
###
The obituary above was submitted on behalf of Kenny Crumley's family. The Lost Coast Outpost runs obituaries of Humboldt County residents at no charge. See guidelines here.