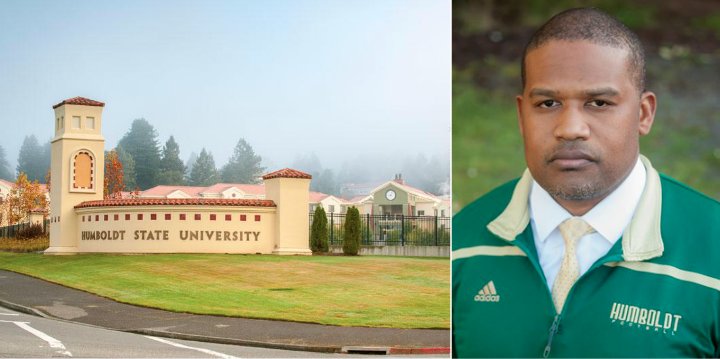 Correction: A number of ticked-off HSU sports fans reached out to the Outpost today to correct our previous claim that the university had never hired an African-American head coach prior to Damaro Wheeler.
Outpost readers provided us with a couple of names, and when we double-checked with HSU Athletics Department spokesperson Andrew Goetz, he confirmed that former track coach James Williams and former volleyball coach Sharon King are both African-American. Both served as head coaches in the '90s.
Wheeler is still the first African-American head coach in the history of HSU football.
###
Humboldt State's new Interim Head Football Coach Damaro Wheeler unintentionally made history last week when he became the program's first-ever African-American head coach.

Despite HSU's lengthy history — its first intercollegiate football game being played in 1927 — Athletic's Department spokesperson Andrew Goetz told the Outpost that no previous head football coaches at the university were African-American.

When asked about HSU's lack of diversity over the last 91 years, Wheeler said it's not something he thinks about.
"I'm a coach that just happens to be African-American," Wheeler told the Outpost. "I'm not concerned about what has or hasn't happened in the past as far as hiring."
Wheeler was appointed to the position after previous interim head coach Cory White resigned on February 16, to take a job as an assistant coach at the University of San Diego. White's run as interim head coach was short-lived after taking over for head coach Rob Smith, who resigned in January after filling the position for the last decade.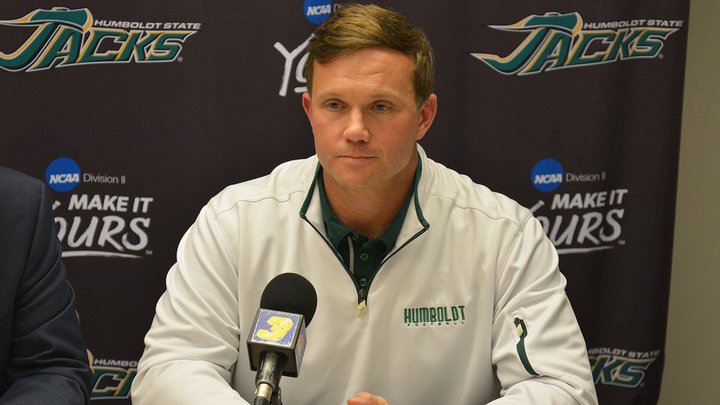 "I would like to thank the President (Dr. Lisa Rossbacher) and Duncan Robins for allowing me the opportunity to step into a position I always dreamed about," White was quoted as saying in a press release only weeks before taking another job. "It is an honor and a huge responsibility to be the next football coach at Humboldt State. This is a place that was so influential on my life as an alum and a Lumberjack."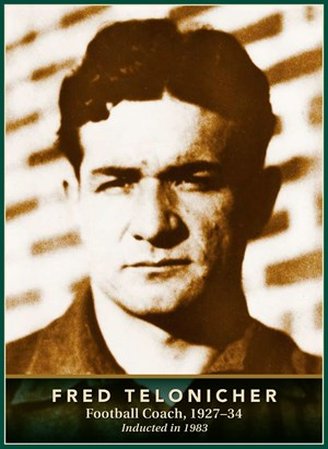 A lack of diversity among professional and collegiate head coaches has been an ongoing issue in the U.S. SB Nation reported last year that while black men made up nearly half of all NCAA Division I football players in 2017, only about 11 percent of their head coaches were African-American.
When asked if any of his student athletes had expressed pride in playing under HSU's first African American head football coach, Wheeler said his locker room isn't focused on skin color.
"At the end of the day, it's about the results we put on the field, in the classroom, and in the community," Wheeler said. "The players are focused on preparing for [next season], not the color of my skin."
Wheeler is currently the interim head coach, which means the university is still going through a hiring process and isn't necessarily committed to him being the head coach come football season. But Wheeler said he is applying for the position and hopes to be named the official head coach.
Read more about Wheeler's coaching career from his Humboldt State profile below:
Damaro Wheeler begins his second season as a member of the Humboldt State football coaching staff.

Wheeler joined the HSU coaching staff in the spring of 2017 and coached defensive backs and special teams for the Lumberjacks last season. Under Wheeler's leadership, the HSU secondary registered 14 interceptions and defensive back Davaeon Johnson earned All-Great Northwest Athletic Conference First Team and Don Hansen All-Region honors. Running back and kick returner Ja'Quan Gardner and kicker Jose Morales both earned First Team All-Conference nods, while punter Alex Elterman was named to the All-GNAC Second Team.

Prior to HSU, Wheeler served as defensive coordinator/assistant head coach at College of the Redwoods. He helped the Corsairs defense improve in each of his two seasons. CR ranked 12th in rushing defense and 20th in total defense during the 2016 season.

Wheeler had coaching stops at UC Davis (2012-14), Central Washington (2010-11), Southern Oregon (2007-09) and Mission Bay High School in San Diego (2004-05).

He played collegiately at Azusa Pacific and San Diego Mesa College. Wheeler helped Azusa Pacific to an Independent Conference Championship in his final year of eligibility (2003).