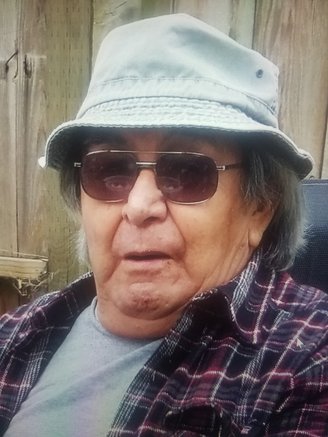 Athos "Beercan" Jackson of Hoopa — a.k.a Papa Gale and Papa Fish — passed away peacefully on Saturday, February 24, 2018, at his home in Hoopa. He was 79..

Dad was born on December 2, 1938, at the Klamath Agency in Chiloquin, Ore., to Athos A. Jackson and Vesta (Pratt) Biondini. He grew up between Chiloquin and Hoopa. He was a member of the Klamath Tribe in Oregon.
In his early teens, like most natives, there were two attempts to send him to boarding school in Riverside, but he escaped both times by jumping on trains to return home to Humboldt County. His final successful escape was at age 14.
He attended Arcata High School, where he got the name "Beercan." He said he always kept his alcohol in his locker. As an Indian kid in a mostly white school, he said he got into fights almost every day. He did make many friends there that he kept his whole life. At the end of high school, he got into an argument with one of the teachers and promptly knocked him out! He never did take any crap from anyone. He figured he would rather join the military than go to jail.
He joined the U.S. Marine Corps after high school. He was assigned to the Amphibious Recon Battalion. He was such a strong swimmer. His job was to set mines on ships while being aboard a submarine. He once held the free dive record of 140 feet. He said the record only lasted one week.
After he was honorably discharged from the Marine Corps, he returned home to court the love of his life, Eleanor Haight. She always told us that he was so persistent. He wore her down by bringing Grandma Jenny Pollock, who raised Mom, fish, deer meat and pork chops, her fav!
He married Eleanor Haight on July 18, 1959. They celebrated their 50th Wedding Anniversary in 2009. Mom passed later that same year. He moved his family to Hoopa in 1972, where he spent the rest of his life.
He worked early on for the Simpson Timber Company, Redwood Lumber, Hoopa Timber Corp. He worked over 50 years in the timber industry. He worked loading log trucks. He knew so many truck drivers from all over. He had a love for Chevy Trucks and would always make fun of the guys who drove Fords!
He was a great hunter, always using his trusty 30 Carbine rifle to keep his freezers full of meat. He loved all his trips to hunt elk and mule deer with all his relatives. But his first love was fishing. He said there was nothing better than being on the river! He always loved to hook a "steelie"! Many of the fish he caught he gave to elders or people that couldn't get fish themselves.
He had many friends that would come from all different places just so they could fish with Beercan. He was the unofficial guide. Never accepted money for his efforts, but loved when people would bring by eels, mussels, surf fish and his favorite, crab!
Dad had such a great sense of humor, to put it lightly, which he never did! If you ever knew him, he probably teased you incessantly. He loved nothing better than to embarrass you, which was his ultimate goal! But, if he teased you, he loved you! You had to learn to give it back to him, which he loved!
One of his other passions was following all the Hoopa sports teams. He always made it to all his kids' games, no matter how far he had to go. Him and mom would hop in the truck and go to all the games. Many people tell me that is what they most remember about him, is always hearing Beercan's voice over anyone else. He would roam the sideline and root for the Hoopa boys and girls. He would always yell at the referees to call it both ways!
He really enjoyed that his Golden State Warriors started winning! He loved to watch all the games. He also liked the 49ers and Giants, but the Warriors were his number one!
For all those who attend his services, please share a story.
Dad was preceded in death by his wife, Eleanor Jackson, his daughter, Gaylene Jackson, his parents Athos A. Jackson and Vesta Biondini, Adolph Biondini, siblings, Aramis Jackson, Tethema "Teemie" Black, Clarence Brett, His Oregon brothers, Grandparents, Boyd Jackson, Sr and Clara (Bussell) Jackson, Asa Pratt, Sr and Grace (Charley) Pratt.
He is survived by Jack and Mary Biondini, Ted and Debbie Biondini, Dorothy Gritts, Ricky Jackson, Renee Haskins, children, Jackie and Tony Risling, Earl "Barney" Jackson and Sarah Jones, Heath "Bubs" Jackson and Stacey Abbott. Grandchildren, Nikki and Jessie Mosier, Nicole Risling, BooBoos Risling and Jack George, Angela, Levi, Lori Risling, Misqiy'ts and Mike Baldy, Brandice Davis and Bobby Kane, Lillian Davis and Bill McCovey, Melitta Jackson and Brad Rojas, Damian and Zachery Jackson, Xander Jackson and Jasmine Gensaw-Kaye, with numerous great-grandchildren and nieces and nephews.
Pallbearers will be Billy Colegrove, Loren Norton, Doug Jackson, Ed Masten, Elrod Masten and Hank Masten.
Honorary Pallbearers are Wayne Grant, Gary Redenius, John Lima, Gary Giannandrea, Gary Howard, Junkie Gray, Tony Risling, Jack Biondini, Ted Biondini, Bill McCovey, Kenny Lucas, Rickey Jackson, Crayton Jackson, Vernon "Sonny" Pratt, Augie Montgomery, Clinton Hoaglen, Dick and Tyke Robbins, Donnie Jackson, Xander Jackson, Damian Jackson, Zachery Jackson, Brandon Biondini, Justin Biondini, Marcus Williamson, Quentin Mosier, Jack George, Bobby Kane, Travis Smith, Earl "Barney" Jackson, Heath "Bubs" Jackson, Dick Lipscomb, Rick Lipscomb, Bill Bowers and Dad's little buddies — Athos and Clint McCovey.
Services will be held on Saturday, March 3, 2018, at the Neighborhood Facilities in Hoopa at 12 p.m. Burial will immediately follow the services at the Hoopa Cemetery. Reception will be at the Legion Hall in Hoopa. Services are through Paul's Chapel.
###

The obituary above was submitted on behalf of Athos 'Beercan' Jackson's family. The Lost Coast Outpost runs obituaries of Humboldt County residents at no charge. See guidelines here.