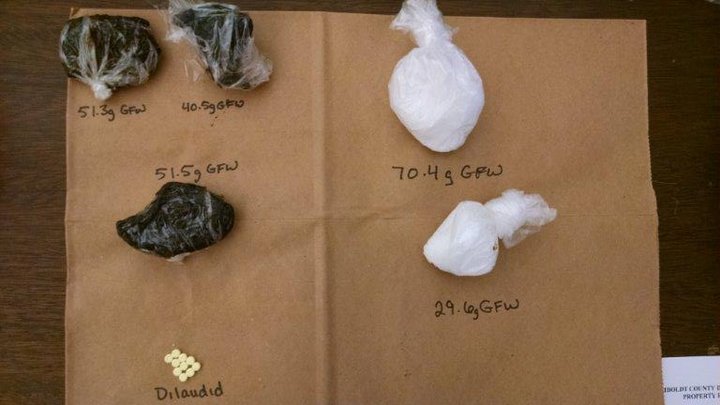 From the Humboldt County Drug Task Force:
On January 9th, 2018, Agents with the Humboldt County Drug Task Force were patrolling the Eureka area looking for 28 year old Angela Lockwood. Agents knew Lockwood had an outstanding felony arrest warrant stemming from a previous narcotics investigation.

At about 6:40 p.m. 4:40 p.m., special Agents spotted Lockwood driving a vehicle in Eureka. They requested assistance from the Eureka Police Department in making a traffic stop on her. Eureka Police Department Officers arrived and attempted a traffic stop.

Lockwood fled the traffic stop and Eureka Police Department Officers initiated a pursuit. The pursuit started on surface streets in Eureka and led to south bound Highway 101 reaching speeds of 90 miles per hour.

Lockwood exited Highway 101 at Fields Landing and fled from her vehicle on foot. With the assistance of a Eureka Police Department K-9, Lockwood was located and arrested, hiding in the backyard of a nearby residence.

A search of the vehicle she was driving revealed 10 Dilaudid pills, approximately 100 grams of suspected methamphetamine and approximately 143 grams of suspected heroin. The suspected drugs were located inside a purse that also contained a digital scale, packaging materials and Lockwood's California identification card.

Lockwood was placed under arrest for her warrant, fleeing in a motor vehicle, possession of a controlled substance for sale, transportation of a controlled substance, possession of a narcotic for sale, and transportation of a narcotic.

Anyone with information related to this investigation or other narcotics related crimes are encouraged to call the Humboldt County Drug Task Force at 707-444-8095 or the Humboldt County Sheriff's Office Tip Line at 707-268-2539.