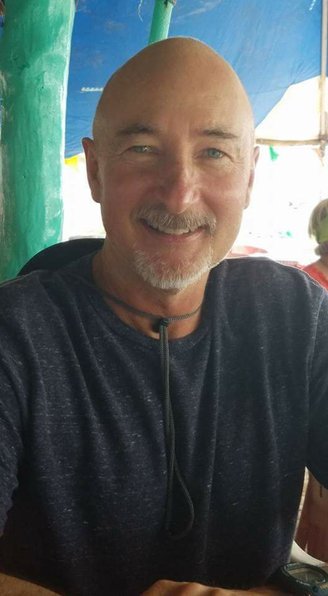 John Andrew Vella, 58, passed away peacefully January 2nd, 2018 at the Hospice House in Eureka following a two-year battle with cancer.

He leaves his wife Kimberly Painter; three sons — Cody, Kyle and Jake; three siblings — Mark, Luke, and Linda; his cousin Roma Rio-Rutonno Harsha; and countless friends.
John was born and raised in Silver Lake, Los Angeles County, the son of Frank George Vella and Cecilia Vella. John met his first wife, Lori Self, shortly after high school, and was married to her for 27 years.
In 1997, he, Lori, and their three sons moved to Piercy to be close to Lori's father and leave behind the bustling city life. John enjoyed the great redwood trees, the fresh air and the privacy that their new dwelling afforded them. However, after five years the privacy felt more like isolation, so he and his family decided to move to Fortuna.
They had a house built where he loved to tend the garden and maintain the house when he wasn't working. John held a few short-term jobs in his younger years, such as working in warehouses and driving trucks, before he started his own business of 30 years as an electrician, learning the trade from his brother Luke.
In an effort to encourage his sons to do well in school, John earned his GED later in life, which opened the door for more education. He began attending College of the Redwoods in 2011 to work toward earning his Associates of Science and RN license. In the midst of all this, John and Lori had divorced and he moved into a condo in Fortuna, where he met his second and final wife, Kimberly, who was his neighbor and who was also attending College of the Redwoods.
John had finished his prerequisites for nursing school by 2013 but was on a waiting list for nearly three years. In June of 2016, he was accepted into nursing school, but was unfortunately diagnosed with stage four colon cancer in February of that year. Although he was tremendously proud of himself for getting in, he ultimately decided that given his diagnosis he would not attend.
Instead, John started living to the fullest. He and Kimberly would take trips to Crescent City to spend time at the beaches and lighthouse, Los Angeles to visit family, Redding to go biking and hiking. They travelled often to see her daughter, Melanie, in Rohnert Park to get out of the house for a few days and enjoy some warmer weather. John and Kimberly were married in January of 2017 in San Francisco and had a wonderful honeymoon in Cancun, where they enjoyed sunshine, beaches, and the absence of doctor visits and hospitals.
John could usually be found with a Starbucks coffee in hand, no matter the time of day. He was well known for never turning down a good cup of joe. He was Kimberly's handyman and best friend, always fixing things around their condo or improving it with new paint, new floors or new landscaping. He had a passion for the outdoors and often enjoyed hiking around the redwoods with his wife. He was a kind soul and always had a joke and a smile to offer. John will be missed by many but not forgotten.
A celebration of John's life will be held Jan. 27 at 4 p.m. at Hydesville Community Church. Anyone with stories or kind words is welcome to come and share our remembrance of John.
###
The obituary above was submitted on behalf of John Vella's family. The Lost Coast Outpost runs obituaries of Humboldt County residents at no charge. See guidelines here.