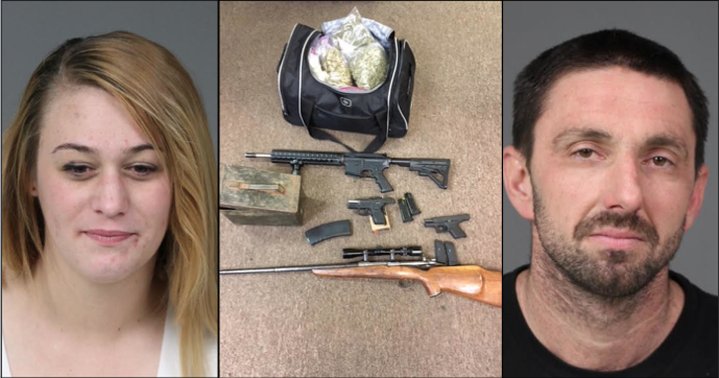 Humboldt County Sheriff's Office press release:
Deputies investigating the theft of a utility terrain vehicle (UTV) made a big discovery Monday in Southern Humboldt.

On Sunday, Jan. 14, 2018 around 11 a.m. deputies were dispatched to a business on the 3500 block of Redwood Dr. in Redway for the report of a stolen UTV. The business reported that the UTV was stolen sometime during the night on Jan. 13.

On Jan. 15, a sheriff's deputy received a crime tip that the subjects responsible for the theft were possibly camped in a trailer at Dean Creek Resort. Following up on the lead, deputies arrived at Dean Creek Resort and noticed a trailer matching the tip's description. Deputies discovered that the trailer was reported stolen out of Hidden Valley. Deputies also located a plastic hood piece to a UTV with distinct and custom painted graphics matching those of the stolen UTV.

Deputies surrounded the trailer and requested all occupants exit. The occupants eventually complied. Deputies detained 39-year-old Jason Joseph Mitchell and 25-year-old Cameren Michelle Boudreaux.
During a search of the trailer, deputies located four firearms, a high capacity magazine, ammunition, several pounds of marijuana packaged for sale and $6,000 cash.

Boudreaux was arrested on outstanding Sonoma County warrants for the following charges: possession of a controlled substance, possession of drug paraphernalia, false identification to a peace officer and violation of probation.

Mitchell was arrested on the following charges: felon in possession of a firearm, felon in possession of ammunition, buying or receiving a stolen vehicle or equipment.

This case is still under investigation. Anyone with information regarding this case or related criminal activity is encouraged to call the Sheriff's Office at (707) 445-7251 or the Sheriff's Office Crime Tip line at (707) 268-2539.