There are also stars in Crescent City.

Last week the Outpost received word that some sparkly movie types had landed at ACV and were headed north to Del Norte County to film some project for Netflix. At the time we reached out to Cassandra Hesseltine, Humboldt-Del Norte film commissioner, and were given her standard "no comment."

OK, fine.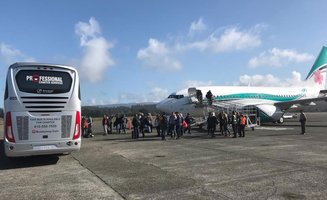 Yesterday, though, the Del Norte Triplicate got the scoop from Crescent City Interim City Manager Eric Wier after film equipment trucks and trailers infested the parking lot of the Crescent City Cultural Center.
The production? Bird Box, a post-apocalyptic thriller based on the Josh Malarian novel of the same name starring (drum roll)… Sandra Bullock, Sarah Paulson and John Malkovich. Big stars!
There has already been some dumb internet buzz surrounding the film after photos of an in-character Bullock sporting a prosthetic baby bump circulated online, confusing people who live to be confused by such things. Some video — filmed at a previous location — of the cast running from (most likely) aliens was posted to YouTube (you can watch it below).
How will this affect the good people of Crescent City? The Bird Box crew of around 300 people is expected to be in Del Norte for the next four weeks, utilizing the Cultural Center as a base camp. Wier confirmed that there are plans to use the building as a soundstage for filming and that the city will, at times, restrict traffic on Front Street to accommodate.
Netflix expects Bird Box to premiere Dec. 21, 2018.
We asked Hesseltine if she could divulge anymore Bird Box intel. Again: "No comment."