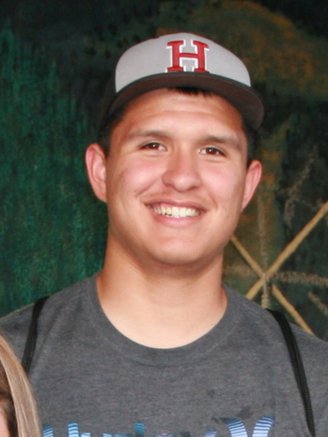 Clinton was born May 3, 1996 and reunited with his Ancestors on Dec. 31, 2017. He came into the world on a beautiful, sunny day in Eureka at St. Joseph Hospital.

He was a proud member of the Hupa Tribe and of Yurok, Abenaki and Karuk descent. He was 21 years young, tall, handsome, quiet, soft-spoken, polite and a respectfully humble young man. He was just a straight-up good boy. He was a true old soul in a young man's body. His smile was infectious and his love for his family was unconditional. His passions in life were spending time with his family, being in the outdoors and playing sports.
He was a natural athlete, playing football as the quarterback and baseball as the pitcher all four years of High School. He was crowned the 2014 Senior Prom King. He was a true Oakland Raider and Oakland Athletics fan. His love of being outdoors involved hunting, fishing, backpacking and camping at Oak Bottom Campground on the Salmon River with his Gram. He was truly the happiest on the Salmon River.
He attended school in Hoopa, graduating with the Class of 2014. He was attending College of the Redwoods, where he was working towards an Associate's Degree in Forestry. His goal was to attend HSU and continue his studies. He was previously employed by the Hoopa Tribal Forestry as a Spotted Owl Surveyor, Hoopa PUD as a laborer and was currently working for the Klamath-Trinity Joint Unified School District.
Clinton is survived by his father Robert Kane Sr. & Ella, mother Shawn Myers, Grandparents Millie Grant and Henry Kane, Carla & Curt Dempewolf, his brother Bob Kane Jr. & Brandice, brother Curtis Kane & Melissa, brother Cole Kane & Shelby, brother Ryan Myers. His sisters Madison Kane, Jurnie Wilder, and Mariah Coleman. His aunties and uncles Tanee Kane & Billy Joe Peters, Glenna & Terry Raymer, Raven & Sport Surber, and Glenn & Melody Moore. He was "Uncle Buggie" to his much loved nieces and nephews Allen & Bunny Kane, Grace Kane & Maile Almodovar, and Kris Mitchel Jr. No one loved these little people more than "Uncle Buggie" and they all brought him so much laughter. Special brothers and sisters Chelsee & Haylee Gibbens, Donald & Cecelia Moore, Joe Bain, Derek Lee, Billy Aubrey, Tristan & Nanya Morton and Onaleece Colegrove. Also survived by a man's best friend (his dogs) Hazel & Bain.
He is preceded in death by his great grandparents Maggie & Frank Grant, Iola Moon and Robert Kane, Glenn & Dorothy Moore, his auntie Beryl, Corene, Margaret and Josephine, his uncles Carlson Kane, Michael Kane, Reginald Grant, Byron Grant, Frank Grant Jr, Delbert Grant and Maurice Grant.
Pallbearers will be: Bob Kane Jr., Cole Kane, Donald Moore, Hilton Hostler III, Billy Joe Peters, Billy Buck Peters, Billy Aubrey, Joe Bain, Derek Lee, Muggs Peters, Nolan Colegrove Jr., Damien Scott, Ryan McManus, Robbie Dogs Scott and Clay Ramone.
Honorary Pallbearers will be: Bob Kane Sr., Curtis Kane, Ryan Myers, Curtis Dempewolf, Glenn Moore II, Page Matilton, Sport Surber, Nolan Colegrove Sr., Steve Valentine, Shane McCullough, Donny Warren, Greg Masten, Amos Pole, Mike Peters, Logan Ferris, Ralph Sorrell, Leonard Masten, Wayne Grant, Stan Griffin, Maurice Griffin, Lonnie Wilson, Mike Lee, Marty Wilkes, William HostlerostlerHhhh, Ryan Matilton, and Charlie Moon.
A wake will be held on Friday, Jan. 5, 2018 at the Robert Kane residence on Pine Creek Road from 7 p.m. to 9 p.m. for the public. Funeral services will be held at the Hoopa Neighborhood Facilities on Saturday, Jan. 6, 2018 at 1 p.m. with burial immediately following at the Hoopa Tribal Cemetery. A reception will follow at the Wildland Fire Hall.
Please join us in honoring our Dear Sweet Clinton. Until we meet again Babe, remember that we will always love you.
###
The obituary above was submitted on behalf of Clinton Kane's family. The Lost Coast Outpost runs obituaries of Humboldt County residents at no charge. See guidelines here.