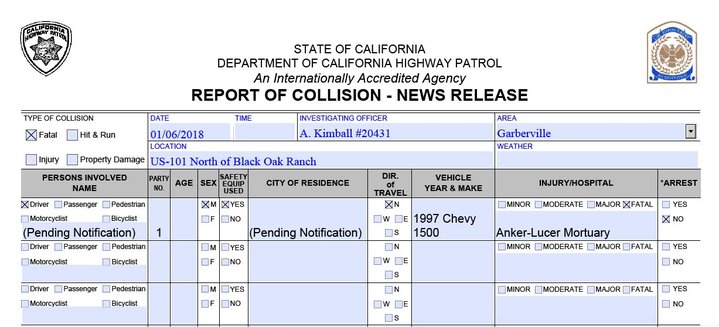 California Highway Patrol press release:

On January 6, 2018, at an unknown time, a 1997 Chevy Pickup driven by a male, whose name is currently being withheld pending notification of next of kin, was traveling northbound on US-101, north of the Black Oak Ranch.

For reasons still under investigation, the driver allowed the Chevy to drift onto the right shoulder. The driver steered abruptly to the left and lost control of the Chevy as it crossed US-101 and overturned down an embankment coming to rest on its roof in a creek.

The driver, and only occupant of the Chevy sustained fatal injuries as a result of the collision and was pronounced deceased at the scene.

Agencies on scene were Cal-Trans, Cal-Fire, Laytonville Volunteer Fire, Mendocino County Sheriff, and CHP.

This collision remains under investigation by the California Highway Patrol. Alcohol or drug impairment as a factor in this collision remain under investigation.