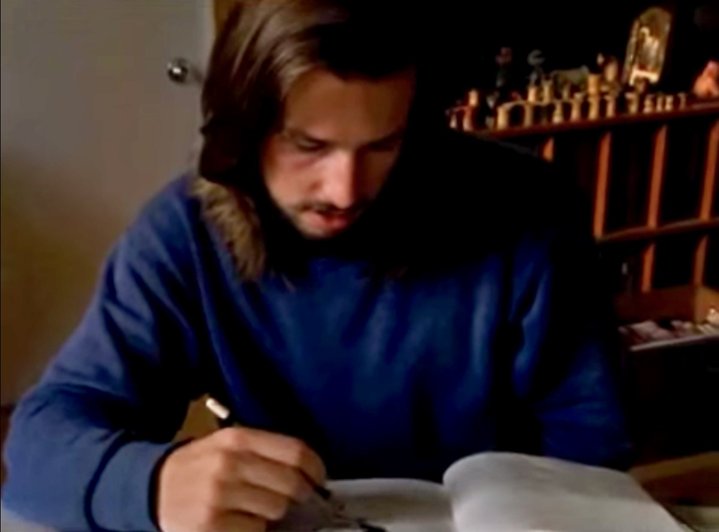 We're a few days late on this news, but local acquaintances of Jesse David Crumb, son of renowned underground comix artist Robert Crumb, alerted us to the fact that the 49-year-old Eureka resident succumbed to injuries he sustained in a head-on collision near Phillipsville on New Year's Eve.

At about 5:18 that evening, Crumb's 1998 Toyota Tacoma crossed over the center line of Hwy. 101 and collided with a 2003 Ford F350 headed in the other direction, as Kym Kemp reported last week. He was flown to Mercy Medical Center in Redding, where he died three days later, according to a brief obituary posted online.
Born to Robert Crumb and Dana Morgan in 1968, Jesse Crumb was an artist in his own right, producing a series of portraits of Beat Generation artists in the mid-1990s. More of his art, including what appears to be an illustration of the Samoa Bridge and Woodley Island, was included in a 1998 book called Crumb Comics: The Whole Family is Crazy!
Though he wasn't close with his dad growing up, the two appeared together in the excellent 1994 documentary Crumb, directed by Terry Zwigoff. Here's a clip from that film:
More than a decade after the movie's release, Jesse Crumb apparently wrote a customer review of the DVD on Amazon, calling it "one of the best documentaries ever made" but also saying it took a toll on his mental health.
"I now spend 6 hours driving to therapy in S.F. from Eureka…every week," he wrote in 2005. "[P]eople came out of the wood work after the film…that was great..real ego rush, lots of money was made…I sold all the artwork I had done to that point, Sketch books…portraits…now I am frozen, have been for a few years..(coming out of it now..finally…starting to paint)."
According to a GoFundMe campaign launched after the accident, Jesse Crumb was headed south on New Year's Eve to meet up with his wife and high school sweetheart, Erica Detlefsen, a nurse at St. Joseph Hospital whom he married in 1999.
An update to the GoFundMe campaign published on Jan. 5 says, "Jesse passed away last night around 8p. He was surrounded by so many who loved him, he did not suffer."