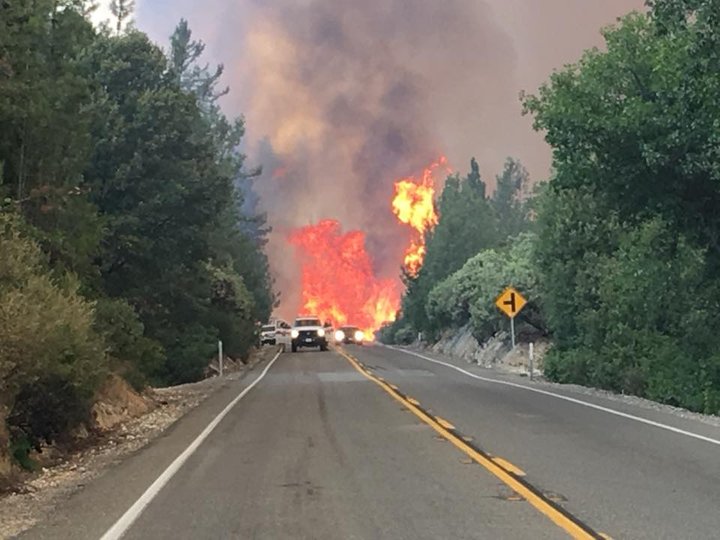 Governor Jerry Brown has declared a State of Emergency for Shasta County, as the 20,000-acre Carr fire continues to rage through the Whiskeytown area.
Calfire reports that as of 1:06 p.m., 192 structures are threatened by the fire. However, Redding's division of the California Highway Patrol has advised all West Redding residents to pack their bags and prepare for the worst.
"We are getting inundated with messages asking if 'name a location' is safe." the Redding CHP wrote on Facebook this morning. "Follow the evacuation updates and be prepared. If you live in West Redding. "Pack your bags! The fire has been very unpredictable … Don't wait till it's too late. If you see fire or heavy smoke billowing into the air from your house, get ready, it's coming."
Thermal mapping of the Carr fire between yesterday (most of the orange) and last night (most of the red). | Images from Nasa, Graphic created by the Outpost.
Calfire reports that the first has been extremely active, doubling in size since Monday.
"The fire became very active overnight with a significant increase in size," Calfire said in a statement. "Firefighters will be working throughout the day to reinforce containment lines and constructing new line around the fire. Continued hot dry weather forecasted for the remainder of the week with triple digit temperatures."
A snapchat user records that it's raining ash in Redding.
There are currently 1,356 fire personnel, 110 engines, 42 fire crews, 10 helicopters, 22 fire dozers and 14 water tenders dispatched to the area.
The fire remains 10 percent contained.