A look at one Redding neighborhood destroyed in the #CarrFire pic.twitter.com/LBtpE6lNxF

— Brian Hickey (@kcraBrianHickey) July 27, 2018
Thousands of Shasta County residents awoke somewhere other than their homes Friday morning after being forced to flee the hellacious Carr Fire which burned past Redding city limits from the west last night.
A second straight night of strong, dry winds pushed the wildfire from the edge of Whiskeytown Lake toward hundreds of homes in western Redding.
Miles and miles of red tail lights could be seen on I-5 as people evacuated the city. People on social media compared the site to a scene from a disaster movie.
This is all that is left of a home on Harlan and Turquoise from #CarrFire. pic.twitter.com/FAhyIUfKji

— Damon Arthur (@damonarthur_RS) July 27, 2018
In its early morning report Cal Fire now lists the fire at 44,450 acres with just 3 percent containment (down from 6 percent last night). A full count of the number of homes and other structures destroyed has not been possible. The power is out for huge swaths of the city.
Two people have been confirmed deceased, a Redding firefighter and a contracted dozer operator.
The staff of KRCR News, a Redding station that had been providing excellent live coverage of the fire's descent into the city, were forced to evacuate their studio late last night. They kicked to imagery provided by a sole, stationary aerial camera.
While most patients remained, Mercy Medical Center announced that it would evacuate several babies from its NICU due to safety concerns. From the Los Angeles Times:
Rick Plummer, director of marketing for Dignity Health's Mercy Medical Center in Redding, said he left the Carr fire command post about 11 p.m. Thursday and arrived home to find a wall of flames a half-mile away and closing in. He was told to pack up and leave and spent the night sleeping on an air mattress in his office, he said. It was the first time he's experienced an evacuation order.

"You hear about it and people that have gone through it, but until you've gone through it yourself, I don't think you can 100% appreciate walking through your home and deciding what to take and what not to take," Plummer said, his voice cracking with emotion. "I started packing my jeep up with things I can't replace."

Plummer said he watched doctors, nurses and hospital administrators work through the night even as they got word their own homes had burned.
# # #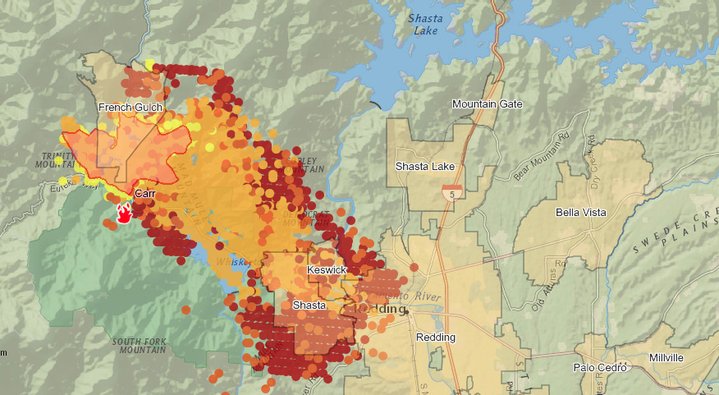 The following is the latest evacuation information available from Cal Fire:
Shasta Dam Visitor Center
All of Shasta Dam Blvd
All of Shasta Lake City and Summit City
Additional Evacuation Orders Issued 7/26/2018 @12:15AM:
Pine Grove Ave north on Lake Blvd to Shasta Dam incorporating
Summit City, North Belt Line and Flannigan Road.
Intersection of Placer Road and Buenaventura Blvd west to Thompson Lane.
Buenaventura Blvd from Placer Road to Westside Road
Westside Road to Keyon Drive incorporating Country Heights and West Redding Neighborhood
Buenaventura Blvd to Hwy 299 to Placer Road.
Placer Road from Buenaventura Blvd to Cloverdale Road
Cloverdale Road from Placer Road to Clear Creek Road.
Clear Creek Road west from Cloverdale Road to Honey Bee Road
Additional Evacuation Orders Issued 7/26/2018 @11:00PM:
North of Sacramento River to Keswick Dam Road, West of Market Street and Lake Blvd to Keswick Dam.
North at Lake Blvd and Oasis Road to Pine Grove Ave and Walker Mine Road, West of Cascade Road/I-5.
Additional Evacuation Orders Issued 7/26/2018 @7:00PM:
South along Swasey Dr from SR 299 to Placer Rd.
West along Placer Rd From Swasey Dr to Prospect Dr
North from Prospect Dr to encompass Middle Park Ranch Land Area
West of Overhill Dr and North of SR 299
North of SR 299 and West of Spinmaker Rd to the end of Harlan Dr
Keswick Dam East to Counter Lane, North to Quartz Hill Rd
The community of French Gulch is under an Evactuation Order. Residents along SR 299 west of Trinity Mountain Rd to the base of Buckhorn Summit are also under evacuation order. Residents along Whiskey Creek Rd to include the boat launch/day use areas are evactuated. SR 299W closure for westbound traffic now at Buenaventura Blvd. Closure to eastbound traffic remains at Buckhorn Summit. South along Swasey Dr from SR 299 to Placer Rd, West along Placer Rd from Swasey Dr to Prospect Dr and North from Prospect Dr to common place Middletown Park.

Residents located east of Trinity Mountain Road use evacuation center located at Shasta College 11555 Old Oregon Trail in Redding. Residents located west of Trinity Mountain Road use evacuation center located at Weaverville Elementary School 31020 HWY 3 in Weaverville.

Animal evacuation centers: Large Animal – Redding Rodeo Grounds 715 Auditorium Drive Redding, Ca. Small Animal – Haven Humane 9417 East Side Drive Redding, Ca.