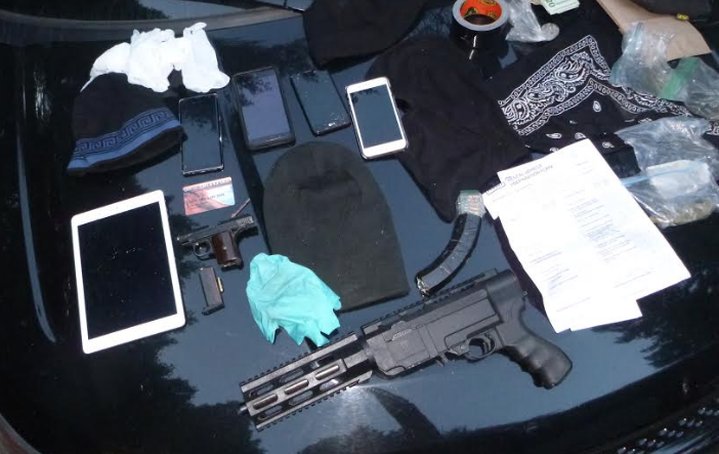 Humboldt County Sheriff's Office press release:
On July 3, 2018 at about 3:30 a.m. Humboldt County Sheriff's deputies were dispatched to a residence on the 2300 block of Sprowel Creek Road in the Garberville area for the report of an attempted armed robbery.

According to the male victim, when he arrived home that morning he observed a white cargo van parked just east of his driveway. As the victim pulled into his driveway, he observed two masked men run past the vehicle towards the parked cargo van. An additional masked male ran in front of the victim's vehicle reportedly pointing a firearm at him prior to entering the van and fleeing. No property was reported missing from the residence.

Sheriff's deputies and officers with the California Highway Patrol located the van at about 6 a.m. parked on Moody Road. Deputies conducted a felony traffic stop on the vehicle. When deputies approached the vehicle, they found four men asleep inside. The four were detained on scene without incident. During a search of the vehicle, deputies located two firearms, one of which was loaded, a loaded high-capacity magazine and burglary materials.

Jackson Charles Lovely, 23, of Albany, CA, Dahndray Bacri Roper, 19, of San Francisco, Ras Enoch Salem Allen, 26, of San Francisco, and Laron James Brown, 23, of San Francisco were arrested and booked into the Humboldt County Correctional Facility on charges of attempted robbery and conspiracy to commit a crime.

The men are also suspected of committing several other robberies and burglaries throughout the Southern Humboldt area.

This case is still under investigation. Anyone with information regarding this case or related criminal activity is encouraged to call the Sheriff's Office at (707) 445-7251 or the Sheriff's Office Crime Tip line at (707) 268-2539.