From the Arcata Police Department: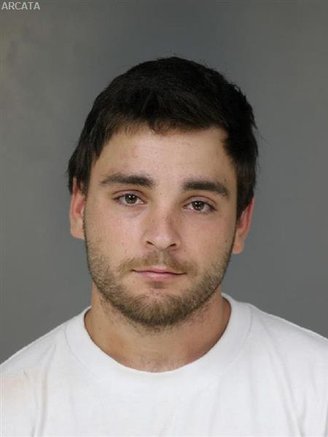 On March 12th, 2018, the Arcata Police Department was alerted to a commercial burglary in progress in the 900 Block of H Street.

Upon the officers' arrival they discovered the front glass door of the business had been broken out. The officers checked the interior of the business and did not locate anyone inside.

The officers expanded their search and located items of clothing consistent with those taken from the business lying in the street.

Additional suspected stolen property was located a few hundred yards further down the street. The officers continued to follow a trail of dropped items ending at a small storage shed in the 1000 Block of 7th Street. Suspecting the burglar might be hiding in the shed, the officers gave verbal commands instructing anyone inside to come out.

A man ran from the shed and led officers on a foot pursuit that ended with the man's apprehension near the intersection of 8th and K Street.
Zachariah Joseph Powell, 24, of Arcata was arrested and booked into the Humboldt County Correctional Facility for a suspected violation of 459 PC, Burglary and 148(a)(1) PC, Resisting a Peace Office.

The stolen merchandise, valued at over $4000, was recovered from the shed where Powell had been hiding.