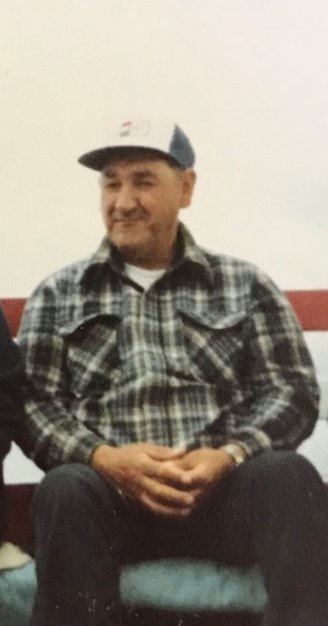 Dad was born November 12, 1927 in Eureka, California and passed away May 15, 2018 at his home in Loleta. He was a lifelong resident of Humboldt County and was the oldest Elder of Rohnerville Rancheria. He lived a good long life and had many great experiences in his lifetime.

He was a self-taught mechanic, a cat skinner in the woods and a wonderful and loving father and grandfather. He taught us to always be responsible for ourselves and to work for a living. My father worked in the woods for many local gippo logging outfits. He was a proud and hard worker and his favorite part of his job was building logging roads up in the hills.
He had a great love for race cars and owned a race car that ran at Redwood Acres . His race car #27 had a logo on the back that read "Backyard Special" painted on his car and we often teased him that the Playroom was one of his sponsors. He spent countless nights after the races to get the car ready for the next weekend's race. He had a mini racetrack at our home in Loleta and we would often get to sit in the car while he "tested" it, much to my mom's trepidation. He entered the car at racetracks in Medford and Redding and these times were the greatest moments of his life. He had many drivers that drove for him including Bert Watson, Dick Jackson, Duane Bowie, Hank Hilton, Joe Wilson and Victor Billy. He was a good set-up man and always set his racecar up to run the groove making people wonder if he was "cheating". He always said suspension in the car was the key and of course Chevrolet motors. He loved that he was such a successful race car owner and mechanic. He spent many a cold nights after his racing years were over sitting in the stands at Redwood Acres until it got too hard to for him to walk up the grandstands. He loved watching his daughter-in-law Sandra Woodhurst drive in the mini-stock division. His son Larry Woodhurst kept up our Dad's love for local racing by being the owner and head mechanic on Sandra's car. Dad was an avid NASCAR fan and took his family to racetracks all over California and Oregon. He was a devoted Ernhardt Sr., Jeff Gordon and Danica Patrick fan. He also was an Oakland Raider fan. We spent several Sundays cheering on all Chevrolets and laughing and cheering when a Toyota or Ford broke. Every Sunday was a dedicated day to my father. There weren't many missed Sundays and daily phone calls to him to see how his day went. Also my Dad's Saturdays were spent with Porky and Judy at his house eating lunch and enjoying the Infinity races. My father had to experience too many losses in his lifetime and I know that he was tired and ready to go but it hurts so bad to lose your daddy. He will be greatly missed by his family, grandchildren and great-grand child Austin.
He bought a house in Loleta behind Loleta School and raised his family and lived there until his death. He was fortunate enough to have the Tribe provide a nice single-wide trailer for him after our Mom died. He was so happy to be able to turn the heater on with the flip of a switch instead of always having to cut wood and build a fire. He was grateful for the trailer and cherished and took great care of his property. He had to see many changes in Loleta and it was hard for him to watch the two cowfields next to him changed into residential places. He loved mowing and weedeating his property. Also hearing the kids up at Loleta School playing at recess was a comforting sound and many times he would go up to get his paper and would find soccer and basketballs in his field. He would throw them back over the fence onto the playground. Thanks to the Bessette's for being good neighbors to him.
My dad loved to watch his daughters play all-Indian basketball and to take his children traveling to all the tournaments. He also got to watch his granddaughter Maggie play softball and to see his grandson Brian and Gary Robinson be successful in the sports they played at Fortuna High. I'll never forget the look of delight on his face when Maggie's softball team won the All-Stars tournament in Eureka one year. He also often clipped out of the paper all the sports news that involved his children and grandchildren.
My dad loved reading his paper and I know that it broke his heart to read of the deaths of too many relatives and of the friends that he worked with in the woods. My dad and mom had many special friendships with people and often he would drive my mom to a friend's house and spend the weekend partying. He also was happy to drive Mom up to Oregon to see Andrea and Bill Horn, Victor and Lilly, Duane and Marion and all of Marion's children. He would also go up to McKinleyville to see Norma Jean and Ike, Leslie and Bobby Joe and also cherished the Thanksgiving dinners in Hayward with Janice and Mac. One extra special time was the weekend spent in Ruth camping with everyone. That was such a special time for everyone and my dad really loved the sunshine and outdoors. He lost our Mom too soon in life to Cancer. He cared for her to the very end and I know there was a deep sadness in him for Mom. He did have a friend later in life that liked to come visit him and we are thankful that Dad had someone to love him. Nancy, his friend, also died to cancer later on in Dad's life.
He spent his youth partying and had some really crazy times. He often told us stories that would make our hair stand on end. Him and His buddy Leslie French would often catch the rails and ride to different towns to hit a bar. He spent many a nights at Friendly Corners and it was strange to him that his grandson would end up bartending at the very bar he had spent many a nights at. He stopped his drinking and smoking and never looked back. He often growled at us for our partying and told me that it would catch up with us someday.
My dad took care of his nephew Marvin Bowie for several years after his Sister Faye died. He helped Marvin get his apartment and pay his bills. He always called Marvin to check on him and to make sure he was okay. I assured Dad that Marvin would be cared for and that we would take care of him. I hope my dad found comfort in knowing that his nephew would be taken care of after he was gone.
My dad got to see another birthday of his daughter Porky on Saturday, May 12. He got to spend that day with Porky, Judy, me and Brian at Brian's House. Gary even came to the house while my dad was there that day. The next day we had to tell Dad that Gary had passed that night.
Tuesday morning we went to take him to the doctor and we found him not breathing. We think his heart just gave out and he died quickly without a lot of pain. We called 911 and he was transported to Redwood Memorial. We want to give a special thank you to the nurses at Redwood Memorial who were so nice to us. To lose such a loved one is such a nightmare. Thanks to Erryn, Bani, Sarah, Jesse Heather and Trieste for your kindness and care.
He is preceded in death by his wife Margaret Moon Bowie, son Gary Bowie and his parents, brothers and sisters. Son-in-law Kenny Wells and Andrea Horn, Norma Jean Carter, Marion Bowie, Janice McGinnis, Victor Billy and Duane Bowie. Nephews Sonny Kesiner (Marcella), and Hank Keisner. Also by Leslie and Robert Bowie, Elizabeth Smiling, Stacy Bowie, Crystal and Delilah Carpenter and Gary Robinson.
He is survived by his daughters Mona Woodhurst, Eloise Bowie (Judy), and Brenda Bowie and Aileen Meyer. Son Larry Woodhurst (Sandra) and Grandchildren Brian and Maggie Wells (Matt), Bristol Woodhurst, Jarred and Bear Bryant Malone and great-grandchildren Austin Warner, Kristopher, Bear Cub, and Noah Malone and Ricky Davis.
Several nieces and nephews – Gail, Patty, Judy, Ronnie, Glen Keisner and Marvin Bowie.
Pallbearers are Brian Wells, Ricky Davis , Danny Lopez, Jeremy Houston, Matt Warner and Joe McGinnis.
Honorary Pallbearers are Larry Woodhurst, Marvin Bowie, Clyde Matilton, Glen Keisner and Ronnie Keisner.
Viewing will be Thursday, May 17 from 2 p.m.-6 p.m. at Goble's Mortuary in Fortuna and graveside services will be held on Friday, May 18 at 12 p.m. at Sunrise Cemetery in Fortuna. An informal reception will be held at his grandson's house in Loleta.
###
The obituary above was submitted on behalf of Elmo Bowie's family. The Lost Coast Outpost runs obituaries of Humboldt County residents at no charge. See guidelines here.