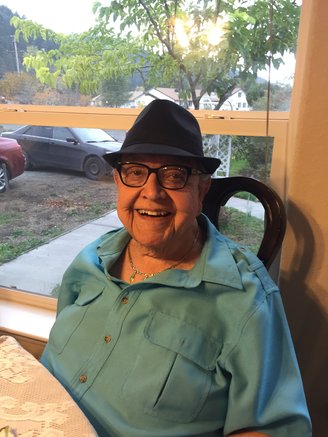 Larry Carlson Marshall – also known as "Bud" or "Buddy" – passed away peacefully on May 28, 2018. Buddy was born on November 2nd, 1928 in Hoopa to Ernest and May Lehman Marshall. With the death of his mother at a very early age, he and his older sister Ernestine Pearl were surrounded by a loving family. At the age of 8 he gained a new mother, Rosalind Risling, as well as an extended Risling family whom he enjoyed many great memories and adventures with.In the next four years he gained five new siblings – Darlene, Ernest Jr. "Peewee," Bonny Jean, Betty Jane and Andrea "Jen."

He attended Hoopa Elementary School and was a dedicated student. He was an ambitious young man, mowing lawns, cutting kindling for the teachers and nurses, washing cars, sweeping porches and saving his money to purchase a bicycle. After attending Eureka Junior High he graduated from Hoopa High School. The many friends from his school years were held closely throughout his life. He actively participated in every high school sport.
After high school he was drafted into the Army during the Korean conflict and spent his time of service in Japan installing phone lines. He climbed to the top of Mount Fuji and made many friends during these experiences. Upon his return home he worked in the lumber industry. While in Hoopa he met and married Rosebud Jones from the Sioux Reservation in South Dakota who was in Hoopa working for the BIA. While attending American River Jr. College in Sacramento, he started a family. They had two children and divorced in 1955.
Through the years he had many occupations — selling cars, driving truck, heavy equipment operator and the lumber industry. But the job that he enjoyed most was working for the Hoopa Valley Tribe. He single handedly designed, developed and managed the Tribal Employment Rights Office (TERO) which he trained for in Washington, D.C. Another source of great pride and pleasure was serving as a K'ima:w Medical Center Board Member for many years.
Bud always drove a fancy car and enjoyed restoring vintage cars. He had a keen sarcastic sense of humor evidenced by his many signs, T-shirts and cards. He enjoyed keeping in touch with his many friends and relatives by faithfully sending cards and letters, which he lovingly typed himself. His exceptionally strong work ethic was to be a dominant part of his essential character throughout his life. Bud loved fashion, stylish clothing, beautiful jewelry and cologne. He was never caught without being well dressed and well groomed. He was a big fan of the Warriors, 49ers and the Giants throughout his life. Bud always had a sharp mind, he remembered every story, address, phone number and many historical details.
The family wishes to recognize with deep gratitude and appreciation K'ima:w Medical Center's, Dr. Emmett Chase and Dr. Eva Smith for their excellent care, the Outreach Program for their many home visits and the Senior Nutrition Program whose staff provided loving care throughout the years. Also a big thank you goes out to St. Joseph's doctors, nurses and hospice staff for their quality care. Special appreciation is provided to his family for their loving care and service over many years, providing meals, organizing all of his doctor's appointments and affairs, cleaning his home, sitting by his bedside through his many surgeries and faithfully meeting his needs as required.
Larry is preceded in death by his parents, his sister Ernestine and his brother Ernest, his son's Larry Ernest and Blair Carlson and nephews Paul "Yoyo" Moon, Gary Rails Jr., Amos Marshall, Mike Kelsey, Dale Kelsey, David Hailey and Jefferson Moon and nieces Dorane Moon and Michelle Moon.
Bud is survived by his sisters Darlene Marshall, Bonny Roberts, Betty Hutt and Andrea Kelsey, his granddaughter Angeline Wilkins and two great-grandchildren, Sierra Rose and Sabastian.
He was loved by his many nieces and nephews, too numerous to name. Please forgive us for any unnamed family and friends no ill-intent was meant. Pallbearers are Clifford Lyle Marshall, Gary Risling, Gregory Moon, Neil Moon, Bob Roberts, Russell Roberts, Joseph Hutt, Wesley Hutt, Weldon Hailey, Mark Hailey, Baron Risling, Leslie "Sim" Risling, Gordon Surber, Edward Moore, Jordan Hailey, Gordon "Sport" Surber, Cliff Marshall, Greg Moon Jr., Christian Moon, Adam Allen and Joe Davis. Honorary Pallbearers are Glen Roberts, Pete Masten, Dr. Emmett Chase, Melvin Marshall Sr., John Marshall, Dale Risling, Mahlon Marshall, John Armand, Hugh Moon, Larry Williams and George Erdall.
Services will be held in Hoopa at the Neighborhood Facilities on Friday, June 1, 2018 at 1 p.m. Interment will be held at the Hoopa Valley Tribal Cemetery with a reception to follow at the Hoopa Wildland Fire Hall.
Flowers may be sent to Paul's Chapel in Arcata.
###
The obituary above was submitted on behalf of Larry Marshall's family. The Lost Coast Outpost runs obituaries of Humboldt County residents at no charge. See guidelines here.