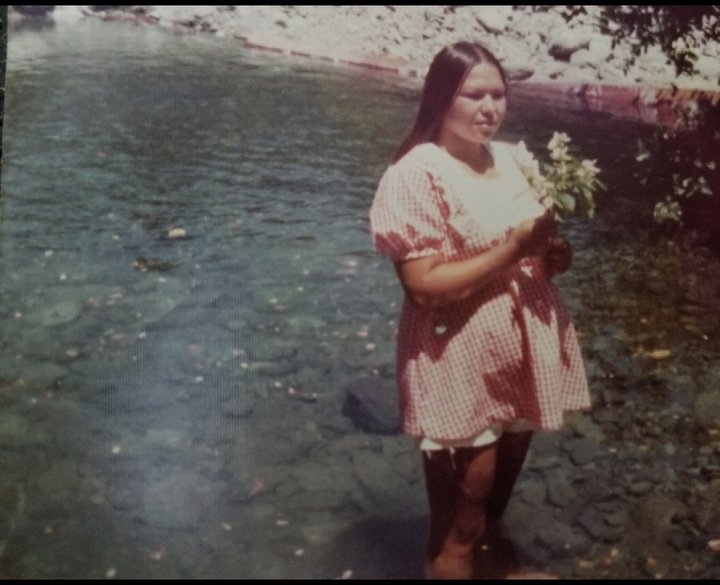 Marilyn Louise Blake
November 18 1956 - November 7, 2018.
Marilyn, Walks Proud Woman, is preceded by her sons Frankie, Soaring Eagle, and Adam, Wise Owl, . She is survived by her son Caw-Tep and his wife Dottie, Kinsa and Cheyenne, Jaclyn, Christina, her boys Caw-Tep, Woodpecker, and Eli, Little Wise Owl, Leroy, her beloved grandchildren Hiyou, Justin, Ellen, Joe Joe, Dancer, Julien, Hawk, Solo, Halia, Jack, Adelia, Thiery, Naunikustaan, Olekweshon, Cheyenne, Kayden, K'Oden, as well as her brothers and numerous nieces, nephews, and cousins.
Marilyn was a true rebel. She never conformed to anyone's ideas of her life but her own. She created her own wealth in the treasures she kept and the relationships she maintained. She was a memory keeper and she honored memories in her photos and keepsakes. Marilyn was a sentimental person. She cherished long term friendships with many people of this valley up and down the river. She had a special knack for showing up in time of need. Marilyn found beauty in things that others didn't. She maintained and organized collections of her found treasures. She had a mastery of living things and her plants were her expression. She had a talent for propagation and transplanting and her gardens flourished. She could often be found in her yard watering, collecting rocks on the river bar and taking care of people.
She had impressive heart and red rock collections that she maintained since the time that Kinsa was born.
She was tough as nails and was not one to be reckoned with. She had convictions and she regulated them. Always resourceful, she knew exactly who to seek knowledge from. She also had nurturing ability and recognized and gave to those who needed it. Those who needed her brand of mothering gravitated toward her. She dedicated what she had to the people who needed it the most. The impact was with them and that's where it should be. She made a difference, and she made it to the people who needed it the most.
She excelled at outdoor living and loved to sleep outside. She brought her artistic touch to her outdoor oasis every summer. She created camps where her kids could swim, roast marshmallows and hot dogs and gain joy from her summer adventures. That allowed her the opportunity to make a true connection to her loved ones.
She honored every occasion. She showed up on Mother's Day, birthdays and just because with gifts, pictures, plants and something from her treasury. She decorated for every holiday.
At a time when she could barely hang on, she found her strength to take care her boys. She was immensely protective of them, and as time progressed they began to take care of her. She gave equally to them — what she gave one; she gave the other. The impacts that she made on our lives will continue to resonate. She will be dearly missed.
Pallbearers:
Caw-Tep Sylvia, Caw-Tep Thompson, Eli Thomspon, Otter Blake, Jake Blake, Johnny Blake, & Eric Blake
Honorary Pallbearers:
Hi-You Sylvia, Justin Sylvia, Solo Sylvia, Jack Sylvia, Robert "Skinner" Colegrove, Micah Titus, Micah Titus Jr., Forest Davis, Tahn Blake, Mawah'che Blake, Wolf Colegrove, Panther Colegrove, Christian Colegrove, Pete Blake, Takatamah Montgomery, Pergish Montgomery, Virgil "Mac" Blake Jr., Benjamin Marshall, Timothy Blake, Jonathan Blake, David Blake, Blake Hostler, Leroy Sylvia, "Lil" Dave Howerton, Valentino Luna, Jules Tripp, Jasper Tripp, Robert Blake, Neil Moon, Louie Myers, David "Sonners" Hostler, Don Suguy Colegrove, Brodie Muro, Everette Colegrove, Everette Colegrove Jr., Two Feathers Offield, Michael Gabriel, Valentino Luna, BJ Jackson, Harwood Starrit, and Les Starrit.
Special Friends:
Cheriku and Aummiez, Susie, Chewie, Bucky, Kimmie Grey K.O. , Amanda Hostler, Sonia Olson, Denise J., Ella Benedict, Leslie G., Brenda, Becky, Mary Dukes, Auntie Tinky, Julie Blake, Auntie Sissy, Beanie & Gloria Vigil, Erica Ammon, Carolyn Taylor, and Laura Bailey.
The funeral services will be held at Marilyn's home on Tuesday, November 13 at 1 p.m. and a reception at the Fire Hall will follow.
###

The obituary above was submitted by Marilyn Blake's family. The Lost Coast Outpost runs obituaries of Humboldt County residents at no charge. See guidelines here.