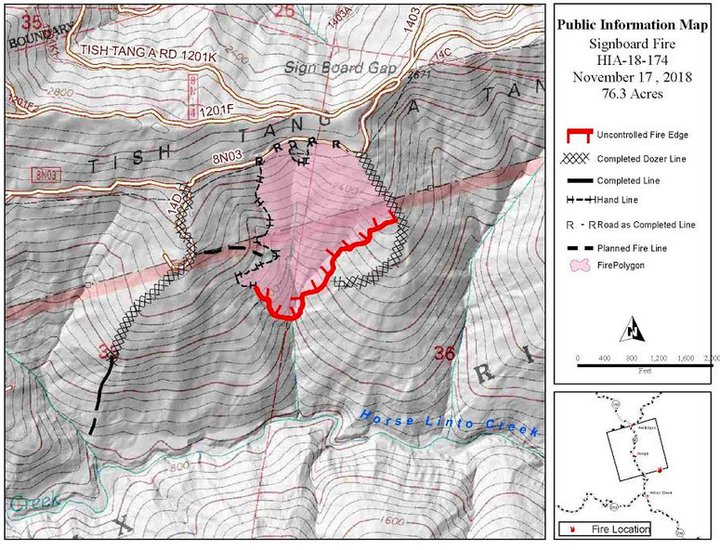 ###

Six Rivers National Forest update:
Yesterday, there was very minimal activity with fire growth mainly occurring on the northeast side. Last night's infrared flight showed a reduction in overall heat intensity of the fire; scattered heat now is visible throughout the 75-acre fire. Some smoke may still be visible from the Highway 96 corridor, north of Willow Creek and into the Hoopa Valley.

Fire personnel have made very good progress with suppression efforts. All dozer lines are completed and an excavator is installing waterbars for erosion control. Handline on the west side, from the dozer line down to Horse Linto Creek, is tied in; the east line should be completed today. Other operations on the east side include securing line and mopping up along the upper portion of Road 8N03. Aerial support from one helicopter is still available.

With the reduced heat intensity and activity of the fire, plus the rain events anticipated for the middle of next week, some resources have already been released and more are expected in the next several days. The two incident commanders managing the fire in unified command anticipate placing the fire in patrol status on Monday.

Fire priorities continue to be focused on firefighter and public safety, protecting economic, natural, cultural and heritage resources, and property improvements and infrastructure. Objectives are to keep the fire east of Horse Linto Road, south of Tish Tang Ridge, west of Signboard Trailhead 7N09, and north of Horse Linto Creek.

According to Rod Mendes, Hoopa Tribe/Fire Dept. Unified Incident Commander, "Working with the Forest Service in unified command shows both agencies are able to successfully work together to achieve a common goal. It's great for the Tribe to have this direct interaction with the Six Rivers National Forest staff and leadership."

"This has been a great opportunity to strengthen our working relationships with Tribal leadership and the Hoopa Fire Department," said Forest Service Unified Incident Commander Paul Johnson of the Six Rivers National Forest.