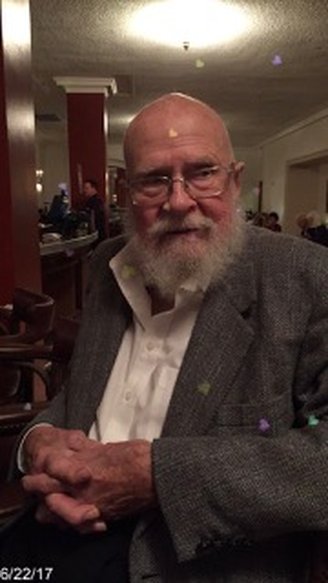 Robert (Bob) Wyatt Frye, a resident of Trinidad, California, died at home on September 28, 2018, surrounded by his family and pets. Bob was born in Hope, Arkansas, on April 21, 1930, to the late Helen Koonce Hirschfield and Spillman Fry. He is survived by his wife of 35 years, Colleen Mullery, and his children, Kathleen Frye, Kimberly Washabaugh, Christopher Frye, and Melinda Frye; his sons-in-law, Greg Rose, Daniel Washabaugh, and Mark Guadagnoli; his daughter-in-law Catherine Frye; his grandchildren, Julian Rose, Brittany Frye, Richard Washabaugh, Michael Washabaugh and Thaddeus Frye; his great grandchildren Adina, Raeya, and Talia Washabaugh; and his brother-in-law Charles Mullery and sister-in-law Meg Mullery. He was preceded in death by his former wife and mother of his children, Rudine Louise Frye, and his great granddaughter, Celine Grace Washabaugh.

From 1951-1955 Bob was a commissioned US Naval officer stationed at Coco Solo, Panama Canal Zone, where he served as Squadron VP-45 Patrol Plane Commander piloting PBM Mariner seaplanes. After his honorable discharge, Bob earned his BS and MBA from Washington University in St. Louis and his Ph.D. in Business Administration from Indiana University Bloomington. During the 1960s, Bob was the principle in a successful marketing research firm in Los Angeles. In 1967 Bob joined the faculty at CSU Long Beach; he moved to Humboldt County in 1984 when he joined the Humboldt State University School of Business faculty, teaching until his retirement in 1992. Bob was known to be a dedicated, intelligent, and rigorous professor. He received many letters, holiday cards, and visits from alums who expressed gratitude for his no-nonsense approach to teaching which they opined prepared them well for the "real world." After retirement Bob became a student of studio art. He created beautiful sculptures and painted striking abstracts, exhibiting his work at HSU and other local venues.
Bob continued his love of learning by taking HSU classes in Political Science, History, and Philosophy. He subscribed for many years to "The Great Courses" and listened to lectures on topics ranging from "Understanding the Brain" to "Shakespeare: The Word and the Action" and "Philosophy, Religion and the Meaning of Life." He made several trips to the New York Metropolitan Opera where he would relish seeing nightly performances over a three-day period. He remained an avid reader of progressive magazines and literary journals, making monthly contributions to several to help ensure their continued existence.
In his younger years, Bob was an avid sailor, working as crew on racing yachts in Southern California. He owned a Lido 14 which he sailed fast and low. He and Colleen chartered Virgin Island boats, both loving to sail the Caribbean waters. After moving to Humboldt, he acquired his private pilot license with instrument rating and became a member of the local Civil Air Patrol. After retirement he enjoyed eclectic travel as the sole passenger on Polish cargo ships, not knowing the overseas destination until a cargo buyer would be locked-in sometime after departure.
Bob was a lover of all animals caring for donkeys, pigs, goats, horses, dogs, cats, birds, and iguanas. After one visit to the shelter to renew a license, he brought home Antoinette, a white rat, who needed a home. He loved his Trinidad home, Honah Lee, and the pristine beauty of Humboldt County. Bob's final wish was to die at home. His family will be forever grateful to the nurses and staff at St. Joseph's Hospital and to Hospice of Humboldt for strongly advocating that his wish be fulfilled.
There is no public memorial service planned. Memorial donations may be made to any rescue animal shelter or to Hospice of Humboldt.
###
The obituary above was submitted on behalf of Bob Frye's family. The Lost Coast Outpost runs obituaries of Humboldt County residents at no charge. See guidelines here.