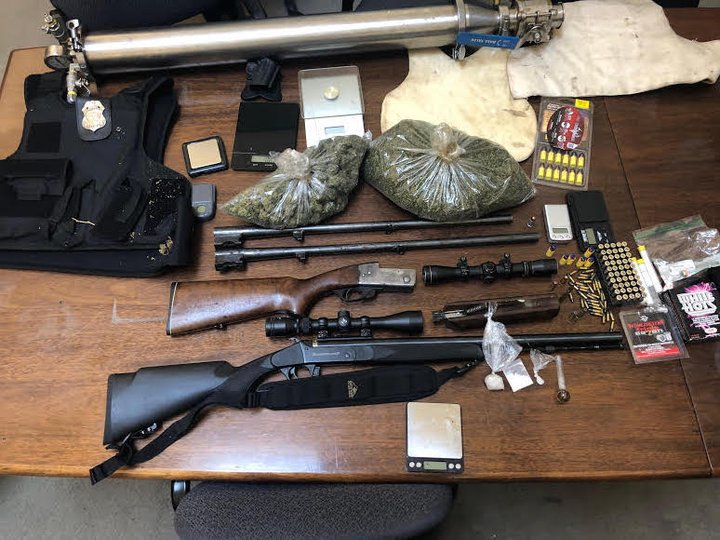 Humboldt County Drug Task Force press release:
On October 11, 2018, at approximately 1:20 p.m., Special Agents with the Humboldt County Drug Task Force, with the assistance of the Humboldt County Sheriff's Office, served a search warrant at a residence located in the 600 block of 16th Street, Eureka. In addition to numerous complaints of suspected drug activity at this residence, agents previously received information that Thomas William Strader, Jr. (age 46) was involved in narcotics distribution.

Upon arrival agents observed Strader exit his residence and enter an awaiting vehicle. The vehicle proceeded N/B on G Street where a Sheriff's Deputy conducted a traffic stop in the 900 block of G Street. Strader was detained without incident and was found to be in possession of approximately two grams of suspected cocaine. Strader also had two outstanding warrants for his arrest and was taken into custody.

Agents then served the warrant at Strader's residence and located the following items: two firearms, miscellaneous ammunition, body armor, several pounds of marijuana, digital scales, packaging material, a small amount of suspected methamphetamine, and other drug paraphernalia. Also located was equipment and butane that is used for BHO extraction.

Strader is a previously convicted felon which prohibits him from owning firearms and body armor. Strader was subsequently transported to the Humboldt County Correctional Facility where he was booked on his warrants and the following charges:

PC 31360 Felon in possession of body armor
PC 11379.6 Possession of hash lab components
PC 11377(a) Possession of a controlled substance
PC 30301(a) Felon in possession of ammunition
PC 1203.2 Violation of probation

Strader's bail was set at $500,000.

Anyone with information related to this investigation or other narcotics related crimes are encouraged to call the Humboldt County Drug Task Force at 707-444-8095 or the Humboldt County Sheriff's Office Tip Line at 707-268-2539.