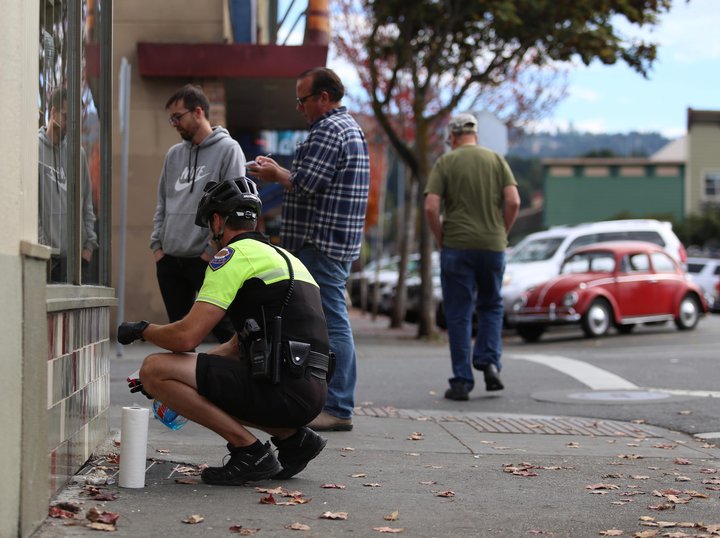 UPDATE, 12:10 p.m.: Dan Flores, an EMT who also works security around the corner at Toby & Jack's, says that he arrived at the scene at the same time police did. He offered his services while they waited for paramedics to show up, and the police took him up on that.
Flores says that he was compressing the wound, attempting to stop the bleeding, while an officer raised the victim's legs. The victim was still conscious when he first got there, Flores says, but was starting to waver in and out.
###
UPDATE, 11:40 a.m.: The Jam owner Pete Ciotti tells the Outpost's Andrew Goff that the victim was someone who often came to the club's weekly "Whomp Whomp Wednesday" dance parties, and that he was someone who the club's staff never had any problems with.
"He was just here to have fun," Ciotti says.
Ciotti says that he ran outside moments after he heard of the stabbing. When he got there, the victim's friend was performing chest compressions on him. Ciotti said he asked several bystanders what had happened, but got little response, apart from someone saying that the man who stabbed the victim was wearing a blue jacket.
Ciotti estimated that there were around 160 customers at The Jam last night.
###
A man was stabbed to death near the Arcata Plaza early this morning, at just about the time the bars were closing, and police are still working to identify the suspect.

Interim Arcata Police Chief Richard Ehle tells the Outpost that the victim, who appeared to be in his mid-20s, was stabbed multiple times, and succumbed to his injuries despite lifesaving efforts from first responders.
Ehle said that detectives are still investigating, but it appears that the incident was preceded by some sort of run-in between the suspect, on the one hand, and the victim and his friend, on the other, inside The Jam nightclub.
Press release from the Arcata Police Department:
On 10/25/18 at approximately 1:40 a.m. Arcata Police Department officers were dispatched to a stabbing that had occurred in the 900 block of H Street. The male victim was located lying on the ground near the intersection of 9th and H Streets. Officers immediately began life saving efforts and summoned medical assistance. The victim was transported to Mad River Community Hospital where he later succumbed to his injuries. The identity of the victim is being withheld pending notification of next of kin and will be released by the Humboldt County Coroner's Office.

The suspect is described as male, possibly Hispanic or Native American, average build, 5 foot 7 inches, wearing a blue t-shirt and gray hoodie.

Anyone with information regarding this incident is asked to call the Arcata Police Department at 822-2428.
###
CORRECTION: This post originally used the old name of the nightclub in question. It's now known simply as "The Jam."