UPDATE, TUESDAY, 8:14 a.m.: From the Humboldt County Sheriff's Office:
The Humboldt County Sheriff's Office would like to issue a correction in regards to the name released yesterday of the missing man involved in the North Jetty search and rescue. The name was released to news media at the scene of the search. The name of the missing subject is not "Malik Keymaan" as originally released. Rather, the subject's legal name is KeyMaan Jac Quesmalik Stringer.

We sincerely apologize for this error and ask for an immediate correction.
###
UPDATE, 5:57 p.m.:
Humboldt County Sheriff's Office spokesperson Samantha Karges just confirmed with the Outpost at the scene, that the missing person is 19-year-old Humboldt State University student Malik Keymaan KeyMaan Stringer from Los Angeles.
Stringer is described as a black man, standing 5-feet 11-inches tall, and weighing 130 pounds.
###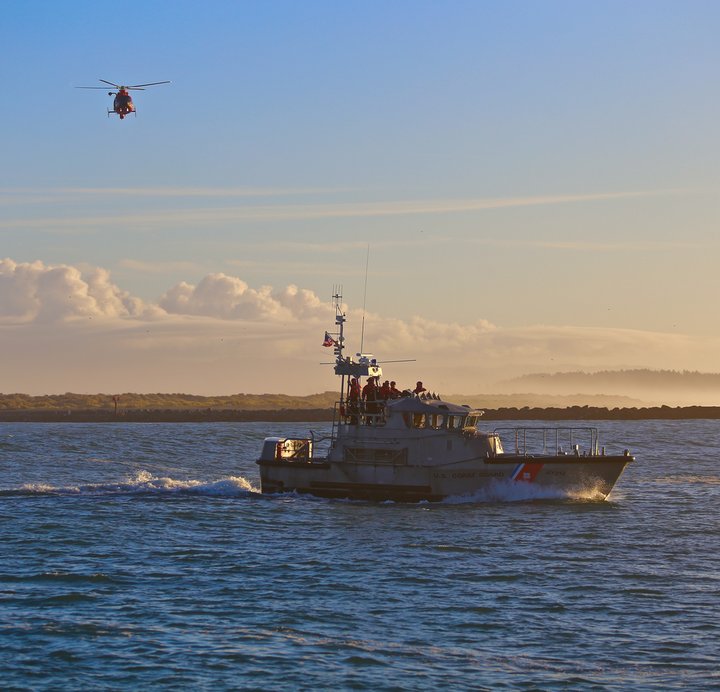 UPDATE, 5:18 p.m.: Quinn Gerard, who was fishing nearby as the man was swept in, talked to the Outpost's Andrew Goff about what he witnessed. Gerard said he jumped into the water to attempt to help the man who went in the water, but was unable to rescue him.

Audio below:
###
UPDATE, 5:10 p.m.: Witnesses at the Jetty tell the Outpost's Andrew Goff that the young man had been fishing from the rocks; when he descended a bit to clear his friend's line, they said, he was swept off.
###
Numerous rescue agencies, including the Coast Guard, Humboldt Bay Fire Samoa Fire and the Humboldt County Sheriff's Office, are at the North Jetty this afternoon, after a 911 caller told dispatchers that a 19-year-old man was in the water.
The Coast Guard has deployed a boat and a helicopter to the scene. Both are patrolling around the mouth of Humboldt Bay in an attempt to find the man, who was last seen at about 4:35 p.m. Watchers are standing on short attempting to spot him
As of this writing, he has not been located. There are numerous young people at the scene who are visibly shaken, says the Outpost's Andrew Goff.
We'll update when we know more.