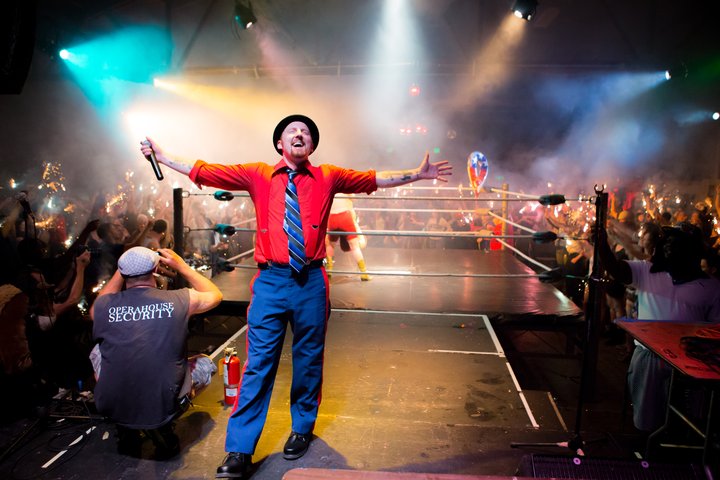 Imagine a night of burlesque, fire dancing, comedy, magic tricks, contortionists, slam poetry, rap battles and almost any other bizarre spectacle you can think of, hosted by a descendant of L. Ron Hubbard. Believe it or not, this exists.
"Tourettes Without Regrets" — a rowdy variety show held once a month at the Oakland Metro Operahouse — is bringing all that and more to Humboldt County for the first time ever on September 14.
"It's the only show like it in the United States," creator and host Jamie DeWolf told the Outpost.
DeWolf is a Eureka born-and-raised writer, performer, poet and filmmaker who left the area to pursue his art. And yes, he is also the great-grandson of writer and Church of Scientology founder L. Ron Hubbard.
But DeWolf is no fan of Scientology and has publicly blasted the organization in multiple interviews and performances. He even hosted an anti-Scientology summit in Clearwater, Florida.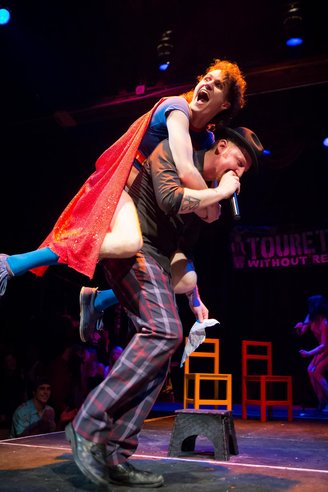 Although DeWolf is not proud of his connection to Scientology, he told the Outpost, he admits that his L. Ron DNA may have something to do with his showmanship and appetite for the absurd.
After receiving scorn for his own obscene open-mic material, DeWolf created "Tourettes Without Regrets" in 1999 as a showcase for performers to express themselves without fear of being weird, dark or offensive. It has since grown into a deranged hybrid of freestyle rap battles, slam poetry, stand-up comedy and performance art. The show has received wide acclaim, landing articles in SFweekly, SFGate and the Huffington Post.
"[I] tried to make a platform for local freaks and weirdos," DeWolf told the Outpost. "It ended up evolving to this crazy laboratory."
DeWolf is excited to bring this oddball creation to his home town and see what happens.
The idea to bring "Tourettes" to Humboldt came from a suggestion from DeWolf's half-brother, Arcata resident Eli Grant. They felt that there was no variety shows quite like this in the area and they saw this as an opportunity to fuse the Oakland and Humboldt performance scenes.
In addition to the few regular "Tourettes" performers who were willing to join DeWolf on the long journey up to Arcata, the show will feature a handful of locals bringing their unique brand of Humboldt weirdness to the stage.
Coordinator for the local performers Ryan "The Culprate" Culp told the Outpost that local talent includes sideshow and circus performer Shae Freelove and an aerial artist from Humboldt Aerial Collective. Culp will also be gracing the stage with his own comedy and magic routine.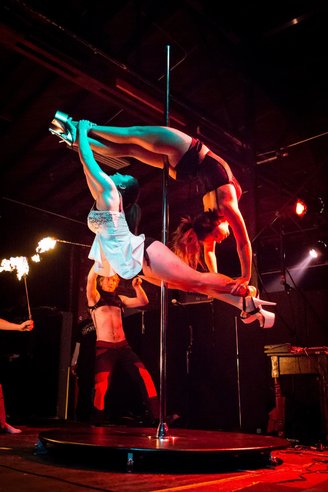 "I'm really excited that [Tourettes Without Regrets] is coming up here and I get to be a part of it," Culp said. "This is a great opportunity to reinvigorate the local community."
Culp told the Outpost about a few more surprises, including an appearance by a celebrity giant. (Not naming any names, but he's kind of a big deal. No pun intended.) But the producers don't want to give too much away. You'll just have to go and see for yourself.
For any local performers interested in flaunting their talents, there are other opportunities to be involved as well. If you get to the show early, you can sign up for the open poetry slam (which is open for most any kind of performance) and the freestyle rap battle. Both contests have a cash prize.
"Tourettes Without Regrets," is also an interactive event, so anybody could be selected to be a judge or asked to participate in some sort of wacky contest. There is always an element of surprise at this event.
DeWolf said that he hopes anyone who is looking for a raucous good time will come out and "join in the anarchy."
The show is on Friday, September 14 at the Arcata Playhouse. Signups start at 8:30 p.m. and the show starts at 9.
For ticket information, visit the Tourettes Without Regrets: Humboldt! Facebook page.