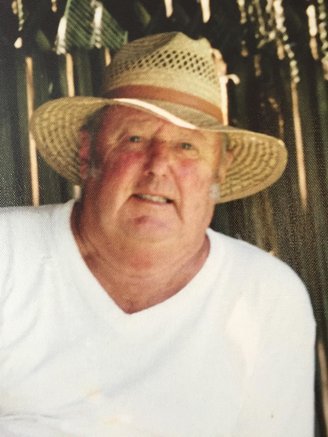 The Trinidad Dog House Gang has sadly lost one of their beloved pack members of 36-plus years, Bill Dimmick. He was our dad, everyone's friend, and cherished relative. He was an advocate for his favorite little town of Trinidad and loved sitting on the bluff overlooking the Trinidad Bay in his gray little truck reading a James Patterson novel, snoozing, or sharing stories and valuable information to those that came by.

Born June 14, 1927 in Sacramento, passed September 9, 2018 in Eureka at SJH. Dad married his high-school sweetheart, Bernice Lovdahl in 1947 right after his service stint in the Navy. They soon went into business with Grandpa George Dimmick, opening the Dimmick's Market in Orick.
Realizing Redwood Creek ruled the geography of the little town, and living so close to it, they decided a move was in store, and thanks to the 1955 flood they were forced to leave but fortunate enough to find a beautiful home in Trinidad, which soon became their forever home for their growing family. After many years of devotion to the Orick community, mom and dad retired from the retail business. Unable to sit idle, they followed this business move by taking over the Washery in Trinidad for 10 years. Here they met many wonderful folks who lived and worked in the community as well as the seasonal fishing folks and campers who enjoyed our ocean and beautiful parks. Mom and dad loved that these folks stopped by each year to say hi, catch up and sit and chat while their laundry was going. In 1987 they purchased the "Dutra cabin" in Trinity Village. This soon became their home-away-from-home with many cherished years of family fun, sharing this little piece of paradise with their many friends, and simply sitting on the deck with each other enjoying the life they were so fortunate to have. They truly felt blessed.
Dad leaves behind children/grandchildren/great-grandchildren: Rick (Marie) - Scott (Courtney) / Calvin&Chloe (twins); Larry (Barb) - Gabe (Sarah) Colton; Connie (Tom) - Lindsey (Kyle)/ Addison & Carson;Tom (Amber) - their much-loved mules and dogs! And, of course, Sadie's wonderful fiance, Brian, and their little boy Jaxon. Dad also leaves behind his brother, John Dimmick and his wife, Sue (Damon/Joey).
Dad follows his beautiful bride, Bernice, beloved granddaughters, Blair Dimmick and Sadie Cartwright, his mom and dad George and Barbara Dimmick, sister Helen Bennett, many valued and loved friends, and most recently his life-long friend, Joyce Schirman.
Dad talked often of his cherished friends in Trinidad, the Dog House Gang (Tom O., Jim, Bud, Bob, Richard, Don M., and the many who left before dad; and, of course, the "pound manager", Erica! You all are wonderful!), Danny and Dorothy Cox, Joe and the great staff at Murphy's, Bear Bait (Tom), and many, many more! Thank you all for being there for dad!
Celebration of Life: Thursday October 11, 2018. Trinidad Town Hall. 3-6 p.m.
###
The obituary above was submitted on behalf of Bill Dimmick's family. The Lost Coast Outpost runs obituaries of Humboldt County residents at no charge. See guidelines here.