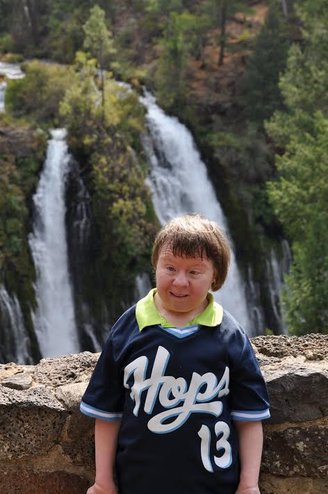 Barbara Jo's journey began September 9, 1968 in Arcata and stretched far beyond the six months initially predicted for her. Her early months were spent in big sister Kathi's baby doll cradle and drinking warmed whole cow's milk her grandma Schechla recommended. Barbara quickly affirmed she was a lady with a purpose and had many gifts and talents to share with her family, friends and community. Her gentle demeanor and beaming smile brought much joy to those she met and worked with. Over the years she developed several nicknames among her family: Pumpkin, Gabby, Princess, Sweetheart, and Gloria.

Barbara was one of the first students in Humboldt County to be educated within a public school classroom at Dow's Prairie Elementary prior to attending Glen Paul Center in Eureka. The 1975 Individuals with Disabilities Education Act (IDEA) provided for a free and appropriate public education known as public law 94-142. Upon graduation in 1989 she began her community based employment as a model employee. She enjoyed being of service to others. In 1986 she was a founding member of the "Work Ability" designed to provide real life experiences and employment for individuals with special needs. Barbara Jo was well known within the community while working at Moon's Play-n-Learn, County Maintenance Crew, Redwood's United Workshop, and HCAR activity center.
While living in Humboldt County, she loved attending classes at the Art Studio in Eureka, where she would paint, draw, and hand crafts. Barbara's passion was her art. She produced several pieces that have been featured on greeting cards. She was an accomplished painter and was the featured artist at McKinleyville branch of Bank of America. Her work won many ribbons in the local and county fairs. Traveling was a highlight with trips to Disneyland, Marriott's Great America, Sea World, Scotty's Castle, Reno, Las Vegas, Death Valley, Alaskan Cruise, Lighthouse tours, Sea Lion Caves and Knott's Berry Farm. The ultimate was attending Stars on Ice with Scott Hamilton. She spent time at Lake Shasta, Whiskeytown, Burney Falls, Hagg Lake and local beaches. Her favorite events were diverse such as county fairs, quilt shows, kinetic sculpture race, rodeo's, festivals and parades. When traveling throughout the community, she was quick to spot the "oldie cars" and "herbies".
In 2007 she retired from her community in Humboldt and moved to Plumas County where she quickly engaged in exercise classes at the senior center, bingo and going to the casino. Barbara was an extremely social and outgoing lady who greeted everyone with a sincere hello and contagious smile. In retirement she learned to knit and quilt but her focus was creating her stunning designs in colored pencil. Barbara loved taking care of others whether two or four legged.
Surrounded by family, on August 21, 2018 she let go of her earthly bonds and joined her parents Dorothie and Ed, brother Steve and brother-in-law Ernie. She is survived by Kathi Hames, Blue Lake; Nancy and Mike Firth, Chester/Redding; Liz and Rick Ferris Yamhill, Oregon; Everett &andKay Scheckla, Palo Cedro, California; several aunts and uncles; nieces Marcie Simpson, Lori Hames, Ann Sarvent and Katie Jackson; nephews David Scheckla, Joshua Ferris and John Hames; sister-in-law Megan and brother-in laws Joe and Dan; three great nieces Lacey, Audrey, Aria and four great nephews Justin, Riley, Alex and Ferris in addition to numerous cousins. A special note of appreciation and gratitude to "adopted mom" Vonda Saucier and Gary Wagner plus the many friends who provided great support and compassion to Barbara and family. The family wishes to thank Mercy Hospice Services for the compassionate care as she completed her life's journey. She will be laid to rest at Crescent Grove Cemetery in Tigard, Oregon.