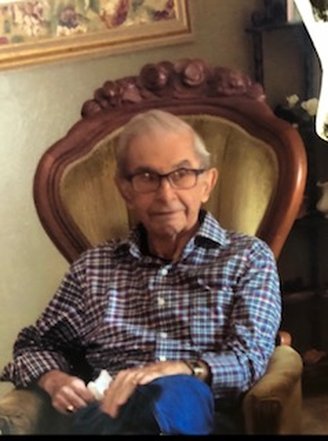 Anthony Henry Mello lived a full and vibrant life, born October 23, 1927 and passing September 20, 2018 peacefully at his home with his wife and children by his side. He is preceded in death by his parents Mary and Joseph Mello, his sister Mary, his brothers Joseph, George and Daniel, his son Jim, and his beloved daughter-in-law Beverly.

Tony's priorities in life were his family and his devout dedication to his Catholic faith. He knew what was important in life and always made sure those around him felt special and well loved.
He was married on Valentine's Day February 14, 1953 to the love of his life Lillian. When he married Lillian, he also became Dad to four precious boys ages 4-11; Frank, Jim, Ron and Richard. Though becoming a father to four energetic young boys may have been daunting to some, Tony considered it a privilege. Four years later they added two girls to the family — Marianne and Cathy.
Tony was a very hard worker and enjoyed every job he had including Cottage Grove Dairy, Sequoia Grocery, his Challenge Ice Cream route, owning Arcata Exchange and managing Country Club Market on Humboldt Hill.
Upon retirement Tony spent a lot of time in his yard perfecting his begonias and keeping his garden in prime shape. He even started a small business taking care of others yards. Tony became close to many of those clients.
Tony was an honorary and lifetime member of the Knights of Columbus. He was a past faithful navigator of the fourth degree.
Tony was an avid Giants and Warriors fan. On game days you could find him in his sports gear with either team flag flying high on his flagpole outside of his home. Sports were a passion Tony and Lillian shared. Tony also loved watching local St. Bernard's sports games.
A life goal Tony and Lillian completed together with their best friends Bob and Berta Guthridge was traveling across the US visiting all 50 states in a fifth wheel. Tony and Lillian also enjoyed cruises with their friends Syd and Mary, and many road trips with Anne and Bob Keeney.
At Christmas time, for many years, you could find Tony and Lillian at Snow Camp working on the Christmas tree farm. Tony was also very creative and loved spending time in his garage workshop building custom wreaths for family and friends to brighten their holiday season.
Tony loved a good banana split or hearty breakfast. Any day with his wife Lillian by his side, and a call or visit from his kids or grandkids, was the best day.
He will be missed dearly by many.
Tony is survived by his wife and best friend Lillian Mello, his children; Frank, Ron (Karen), Richard (Rhoda), Marianne (Bonnie) and Cathy (Clark) and daughter-in-law Carmen. His grandchildren; Garrett (Chrissie), Courtney (Andrew), Kyle (Amy), Kendra, Becky (Tom), Kelly (Ross), Matt (Cindy), Lori (Jim), Steve (Stacy), Jenny (Eric), Crystal (Scott), Abby (Jim), Nicole (Randy) and Denise (Travis). Tony is also survived by twenty-one beautiful great grandchildren.
A mass will be held Saturday, September 29 at 11 o'clock preceded by a rosary at 10:30 at Saint Joseph's church in Eureka, California. A reception will follow immediately after the mass at Saint Bernard Parish Hall.
In lieu of flowers, donations can be made to Saint Bernard Church, Saint Bernard's Academy, Hospice of Humboldt or a charity of your choice.
Tony's family would like to thank his caregivers Itupa and Leua, Hospice of Humboldt nurse Keona and social worker Hillary for their exceptional care and support.