UPDATE, 3:40 p.m.:
'A Dark Day'
KHSU's spring pledge drive wrapped up last week — just a couple of days before the administration pulled the plug today. Wildberries Marketplace, the station's largest underwriter, is pretty pissed off.
Here's what Wildberries posted on their Facebook page a week ago, when KHSU was still the KHSU of old.
It says:
Wildberries Marketplace has recently renewed its commitment to local programming of KHSU by rescheduling its underwriting messages to maximize its support of radio shows produced by our talented local D-Jays, many whom have volunteered their talents for decades. Wildberries, dedicated to local programming on KHSU now and into the future. Wildberries, locally owned, locally committed for 25 years.
Today, after news broke, the store posted a new message to its page:
If you can't read that, it says:
HSU GUTS KHSU

Wildberries has canceled all KHSU underwriting effective immediately. As KHSU's largest local underwriter, Wildberries is shocked and saddened by this unilateral and ill conceived action.Our hearts go out to all volunteers and staff who have contributed to what used to be a community radio station. This is a dark day.

Signed,
Phil Ricord
President and founder
###
UPDATE 1:02 p.m.:
Well, at 1 p.m. KHSU started airing North State Public Radio out of Chico. Before today, this was the time-slot for the KHSU Homepage.
R.I.P., KHSU Homepage.
# # #
UPDATE, 12:15 p.m.:
The dramatic changes to KHSU announced this morning will take place immediately, according to Frank Whitlatch, associate vice president of HSU's Marketing & Communications Department.
In fact, they seem to have taken place already. Lorna Bryant, who was the station's office manager until hours ago, told the Outpost that the morning host, who was scheduled to be on the air until noon, left an hour early. The era of all-syndicated programming has evidently commenced.
Bryant said she was in the Feuerwerker Building on campus, clearing some of her audio files off the computer before heading to the Wagner House to clear out her desk.
"Engineers are wrapping up stuff; other employees are wrapping up stuff; IT and HR and Telecom are here — they're shutting us all down," Bryant said. Staffers haven't had much chance to converse with each other. "We were all sequestered in different directions," Bryant said.
David Reed has been promoted from development director to interim director and morning host Natalya Estrada will remain on staff, according to Bryant.
Whitlatch said the few remaining staffers will be responsible for choosing which syndicated NPR programs will now occupy the station's daily schedule.
"There are some shows run by students, [such as] Radio Bilingue, and the goal is to continue with those," Whitlatch said, "though there could be some impact to that. The students were working with some of the staff, working with people who are no longer employed."
Whitlatch said listeners will notice changes to the station, but the immediate impacts to a select few are more severe. "Some people lost their jobs today, so their lives are shaken up," Whitlatch said. "That makes things really hard."
Julie Ryan, who was KHSU's music director from 2006 to 2008 and had hosted the program "Left of the Dial" (as Julie Unrulee) since about 2006, said she found out about the changes this morning when she checked her phone during a break at work. Friends had been texting to check in after seeing the story break online.
"I'm incredibly heartbroken right now," Ryan said. Ever since the unexpected firing of longtime programming director Katie Whiteside almost a year ago, there has been "very little or no communication from the GM [Peter Fretwell] or any official communication from the higher-ups at university," Ryan said. The one exception was an edict issued about six months ago telling volunteers they were no longer allowed to be on the air after 10 p.m., "even though I never had problem with safety," Ryan said.
She added, "I'm heartbroken for the entire North Coast because I'm sitting here watching the situation unfold, and the university has clearly mismanaged this resource and they are gaslighting the entire community by saying it's a lack of community support and a lack of underwriters and a lack of memberships." She believes the higher-ups wanted the station to "implode."

She wanted to thank listeners for their support and offered these parting words: "I hope that everybody finds their own special brand of 'unruleeness' and uses it to make the world a better place."
Bryant also expressed appreciation for her experiences at the station.
"The employees of KHSU love the community and love the KHSU that we've all known," she said. "What it is now and what it will become, who knows? But I personally want to thank the community for all the years of undying support to the station, the staff and the volunteers."
—Ryan Burns
# # #
Original post: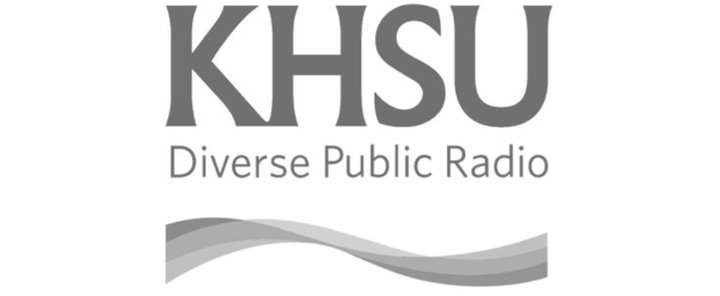 Humboldt State University issued a jarring press release Thursday morning signaling the end of the version of KHSU many local ears have grown accustomed to over the years. As part of the school's "reorganizing and streamlining" efforts at the station, numerous staff and volunteer positions will be eliminated.
The move comes almost a year after the firing of popular programming director Katie Whiteside, which sparked months of tensions between university administration and KHSU staff and community members.
The Outpost will attempt to find out more about today's developments at KHSU. For now, we'll pass on that we've been told there is a police presence in the radio station's studio this morning while HSU administrators meet with affected staff. Also, the staff page on KHSU's website has been updated.
Humboldt State University press release:
Humboldt State University is reorganizing and streamlining operations at its public radio station, KHSU, with the goal of preserving quality programming for the North Coast.

The changes are intended to address operational challenges at KHSU, prevent further negative impact to the University's budget, and better align HSU's financial support with its mission and with opportunities for students.

Station employees were told of the changes earlier today. Because the reorganization and budget reductions include the elimination of positions, a number of individuals will no longer be employed at HSU. The University is working to provide clear information to them, and to ensure they receive any benefits they are entitled to.

The steps taken today include:

Elimination of HSU's direct payroll support, including the General Manager position and Chief Engineer position, saving the University more than $250,000 annually.

Elimination of five other staff positions, generating significant savings in the portion of KHSU's budget that comes from government support, underwriting, and listener contributions.

Appointment of an Interim Station Director, to be supported through non-HSU funding.

Consolidating all KHSU operations in Feuerwerker House, reducing the inefficiency of having two separate spaces.

Indefinite suspension of volunteer-run programs. The University will evaluate how students can return to a more substantial on-air role at KHSU.

Actively pursuing collaboration with other public radio stations and seeking CPB funding to support this effort.

The decision to realign the station reflects a comprehensive assessment. Factors included the station's increasing cost to the University; KHSU's limited capacity for additional fundraising and underwriting; challenges identified by the CSU Office of Audit and Advisory Services; feedback from listeners and volunteers; the University's commitment to public service; and the appropriate role of student involvement in station operations and programming.

The report from the CSU Office of Audit and Advisory Services (pdf), which was recently received by HSU, includes an in-depth program review of the station that identified a number of issues with operations and administration. It was initiated at the request of HSU President Lisa Rossbacher, and she shared it yesterday with KHSU's Community Advisory Board.

In addition to issues identified in the report, there are serious budget issues at the station. KHSU is heavily subsidized by the HSU general fund, and the station's budget deficits have continued to worsen. At the end of the 2017-18 year, HSU had to cover a budget deficit of nearly $135,000 beyond its regular subsidy, and this year's projected budget deficit is even larger.

KHSU's budget challenge largely reflects increases in payroll costs. In addition, community support has been flat or declining, with underwriting revenue down approximately 14 percent for the year and listener support down approximately 17 percent. And while volunteers create a great deal of local programming, their efforts also come at a cost, requiring significant support by paid staff.

The budget challenges at KHSU come as HSU has been working to address an overall structural deficit as well as funding declines related to an enrollment drop. The University has reduced its spending by $9 million over the last two years, and is making nearly $1 million in additional reductions for the coming year.

For context, over the last year HSU has funded nearly half the cost of KHSU. Listener support provided about 22 percent, corporate underwriting 17 percent, and government grants 12 percent. HSU directly paid more than $265,000 in salary, covered at least $250,000 for space and utilities, and spent at least $80,000 receiving and processing contributions to the station.

Even with the changes at KHSU, listeners will continue to have access to high-quality national programming and news. The most recent audience data reaffirm this is, by far, the station's most popular programming.