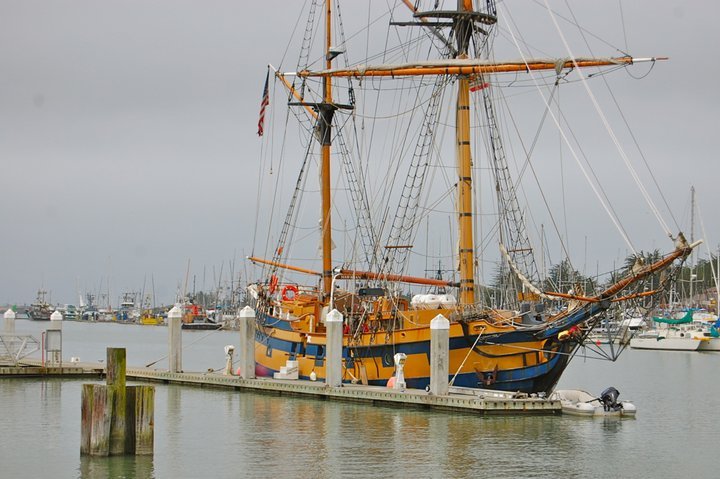 ###
Humboldt County nautical groupies, small children and others have grown to love a (mostly) annual Eureka tradition — that time in the spring when the tall ships Lady Washington and Hawaiian Chieftain, replica vessels based out of Aberdeen, Washington, port their helms toward Humboldt Bay. Once here, the crews of the historic ships give public tours, engage in mock battles and generally recall us to the grandeur of the Age of Sail.
It's become such a Thing that this year the Eureka Visitor Center organized a whole new festival around the ships' schedule this year — the so-called "Salt and Fog Fish Fest," with vendors and music and a 5K fun run and everything. That kicks off tomorrow at the Madaket Plaza, at the foot of C Street.
Alas, though, one of the honored guests won't be making it to its scheduled port of call. The Lady Washington, the larger of the two ships, was en route to the North Coast yesterday when weather forced it to turn back and seek shelter in Bodega Bay, where it remains.
Roxie Underwood, the marine operations coordinator for Grays Harbor Historical Seaport, the nonprofit the operates the tall ships, told the Outpost this morning that the Lady ran into strong headwinds near Point Arena and couldn't make progress. At the same time, Underwood said, the ship got battered about by the weather, with at least a few crew members injured. One of them was knocked out of his bunk and suffered a head injury.
The Hawaiian Chieftain can sail a little closer to the wind, Underwood said, and is still puttering its way up the coast. She's expecting it'll arrive at the Bonnie Gool dock right around its appointed hour — 2 or 3 p.m., or thereabouts. The Lady Washington will almost certainly have to skip Humboldt Bay entirely this year.
Reached a few minutes ago, Fish Fest organizer Alanna Powell told the Outpost that she hadn't yet heard about the Lady's woes, and didn't yet have any information about how Grays Harbor would be handling the advance ticket sales for Lady-related events this weekend — whether refunds would be offered, or whether activities will be moved over to the Chieftain.
But Powell said the Salt and Fog Fish Fest is still definitely a go. There'll be the typical festival assortment of food trucks, vendors and music starting at noon tomorrow at Madaket Plaza, with Timber Heritage Association speeders running between there and the Chieftain's mooring place near the Adorni Center. There'll be yacht races and a Coast Guard flyover, kayak rentals — all that stuff. The 5k fun run is Sunday. See full schedule here.
"It is a disappointment, but there's so much more happening and we're happy to still to have the Hawaiian Chieftain in town," Powell said.