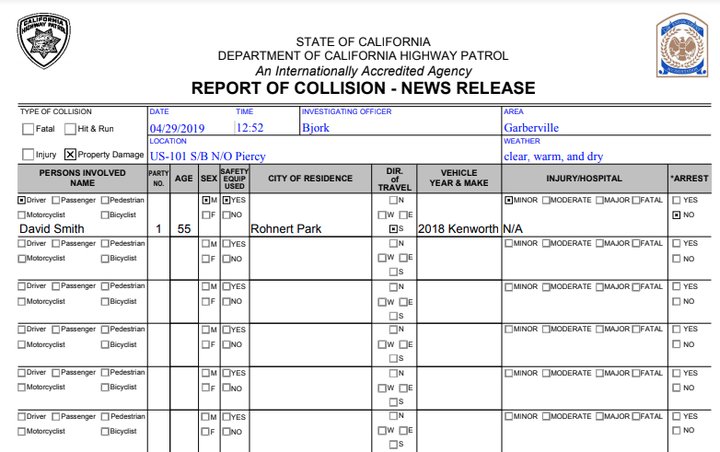 California Highway Patrol press release:

On April 29, 2019, at approximately 1252 hours, a tractor trailer combination driven by David Smith of Rohnert Park, was traveling southbound on US-101 north of Piercy. For reasons still under investigation, Mr. Smith allowed his vehicle combination to leave the west roadway edge of US-101, where it collided with a guardrail. He was unable to regain control of his vehicle combination, and it traveled down the west, dirt/grass embankment, across both lanes of SR-271, and collided with a redwood tree.

As a result of the collision, diesel fuel from one of the tractors fuel tanks and engine fluids were spilled onto the dirt/grass shoulder of SR-271. The vehicle combination, originally transporting grain, was unloaded at the time of the collision. Mr. Smith sustained minor injuries.

Personnel from the California Highway Patrol, Garberville Area, Cal-Trans, Cal-Fire, Piercy Fire, Fish and Wildlife, and The Mendocino County Health and Human Services Agency responded to the scene.

This incident is being investigated by the California Highway Patrol, Garberville Area. Alcohol and/or drug impairment was not suspected to be a factor in the collision.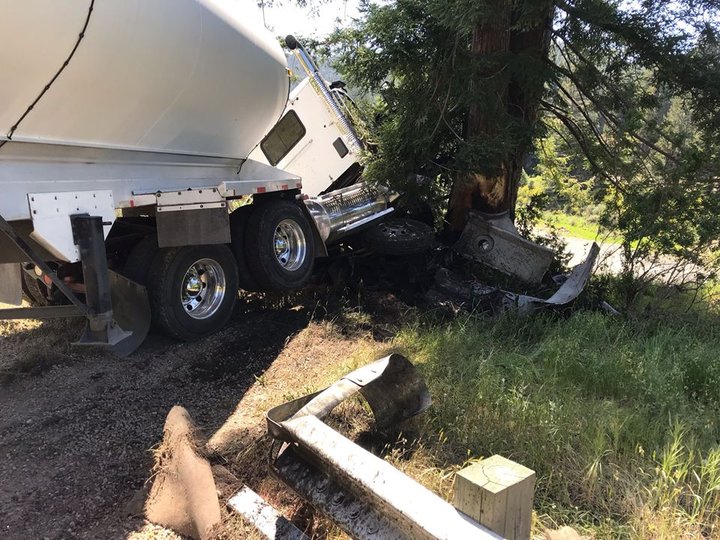 Photos by Caltrans. | Caltrans reports that route 271 was reopened this morning at 7:30 a.m.