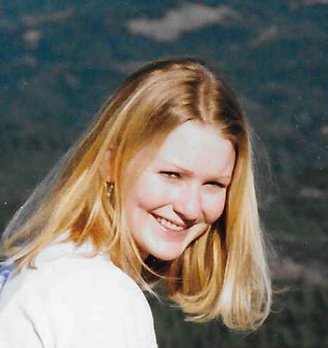 Dorothy Loree "Dottie" Chambers of Petrolia was born in Eureka, California to Tim and Marie Cochrane on December 7, 1980. She was welcomed home by older sisters Jana and Laura and, together, the three sisters welcomed Dottie's younger sister Rebecca in 1984. Educated in Eureka City Schools, Dottie excelled in athletics and the arts, having a knack for being able to create wonderful pieces of art and home decor out of nearly any object she happened to find.
Dottie married in 2003 and gave birth to her first son, Kaden John. She moved to Petrolia and in 2004 Hunter James was born. Baby girl Makenzie Georgia joined the family in 2009.
She was a loving mother who was extremely proud of her children. Her creativity and artistry were put to good use with Kaden, Hunter & Makenzie in play as well as school projects. Dottie's passion for all creatures was shared with her family where many a story has been told and retold of adventures with the wild pig "Piggly Wiggly", saving bummer goats in the kitchen, too many rescued cats, birds and other varmints to count and the long-term family resident carpet python. She was also very fond of her Great Pyrenees, "Shadow". The river and ocean were very special to Dottie and she spent many a day scouring their shores for unexpected treasures, most of the time with kids in tow. Dottie was a strong swimmer and took regular advantage of Petrolia's proximity to the Pacific and surfed whenever she could.
An active member of the Petrolia Community, Dottie volunteered over the years in the Mattole School classrooms, the Mattole Grange and other valley organizations. She could often be seen working on school theatrical sets, at PTA events, basketball and soccer games as well as working in unseen, small ways with many area people. Although extremely compassionate, Dottie was outspoken and rarely lacked an opinion to share with both willing and unwilling recipients. She loved people and they loved her back.
Dottie died unexpectedly on August 5 , 2019. She was predeceased by her sister Jana Cochrane; her maternal grandparents Lowell and Dorothy Mengel; her paternal grandparents James and Loree Cochrane; uncle Todd Cochrane; uncle Sam Mengel; aunt Pam Cochrane; and cousin Dennis Mengel.
Dottie is survived by her sons Kaden and Hunter Chambers and daughter Makenzie Chambers; her dog, Shadow; parents Tim and Marie Cochrane; sister Laura Cochrane, brother-in-law Charles Schuttloffel, nieces Sharon and Hazel Schuttloffel and nephew Tim Schuttloffel; sister Becky Sheets, brother-in-law Jason Sheets and nephews Colin and Reed Sheets; brother-in-law Doug DeShiell; uncles Sham Cochrane, Lowell Mengel, Ward Mengel (Christine) and Russ Mengel (Donna); aunts Leslie Cochrane Burchfield (Dennis) and Patsy Newmaker (Paul); and cousins Cory Cochrane, Kristy Stogner, Lauren Burchfield, Justin Cochrane, Chris Cochrane, Russ Mengel, Rob Mengel, Carl Mengel, Karri McCarty, Michelle Lewis and Jennifer Vail; and numerous other relatives and many friends.
A private family memorial service will be conducted and a community celebration of Dottie's life is planned after Labor Day at a time and place to be announced.
###
The obituary above was submitted by Dorothy's family. The Lost Coast Outpost runs obituaries of Humboldt County residents at no charge. See guidelines here.